We've updated our Privacy Policy.
By continuing to use this site, you are agreeing to the new Privacy Policy.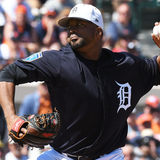 The Royals would still like to add help in either the rotation or the bullpen, tweets USA Today's Bob Nightengale, but their payroll is elevated to the point where they have very little room for further additions. As such, a reunion with still-lingering free agent Greg Holland seems "extremely remote," Nightengale adds. Over the past couple of weeks, the Royals have signed Lucas...
After Francisco Liriano threw three scoreless innings with four strikeouts in the Tigers' 6-3 win over the Braves Sunday at Joker Marchant Stadium, manager Ron Gardenhire indicated that Liriano has a rotation spot as long as he's healthy.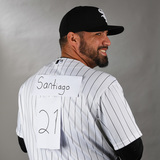 Hector Santiago, who came back to the White Sox this offseason on a minor-league deal, has come up with a strategy to combat the fastball decline that often comes with aging, James Fegan of The Athletic writes. The southpaw plans to bring back the screwball he threw in his days as a rookie. "I have not gone a day this offseason or in spring training where I have not thrown a screwball...
LIKE WHAT YOU SEE?
GET THE DAILY NEWSLETTER: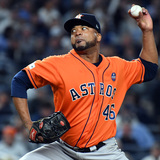 The Tigers have agreed to a one-year, $4MM contract with lefty Francisco Liriano, reports FanRag's Robert Murray (Twitter link). The deal also contains another $1MM in available incentives. Murray had recently tweeted that the market for Liriano, a client of the Legacy Agency, was picking up some steam.Liriano, 34, enjoyed a resurgence as a key member of the Pirates from 2013-15...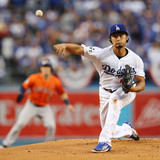 In updating the Rangers' pursuit of starters, Jeff Wilson of the Fort Worth Star-Telegram writes that there has recently been "more activity between" other teams and free agent right-hander Yu Darvish. However, having spent nearly all of his career in Texas, Darvish is waiting for the Rangers to court him more aggressively, Wilson suggests. The Rangers expect him to land better offers...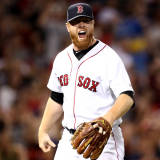 Welcome to this week's edition of Three Up, Three Down — your weekly catch-up of the three best highlights (and lowlights) from around the league. We're here for all of the cheers and the jeers, because it's baseball. You can't have a winner without someone losing along the way.Up: Cleveland and Boston deliver an instant classicBaseball's season is 162 games long, and it's not like...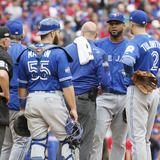 The news for Toronto Blue Jays pitcher Francisco Liriano isn't great, but it could have been much worse after he was hit in the back of the head by a line drive on Friday. Blue Jays trainer George Poulis told reporters on Saturday that Liriano came away with a concussion. BREAKING: Official diagnosis is a mild concussion for Francisco Liriano. No timetable for a return, per ...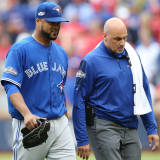 The Toronto Blue Jays are out to a 2-0 ALDS series lead after a 5-3 victory over the Texas Rangers on Friday, but their thoughts right now are with left-hander Francisco Liriano, who was forced to exit the game after taking a line drive to the head. Liriano was on in relief in the bottom of the eighth inning when he was struck in the back of the head/neck area by a comebacker off...
In a good way, Francisco Liriano is making life more complicated for the Blue Jays. Not that a team should take anything for granted, but as the Jays look ahead to the playoffs, it's hard to know exactly which starters could and should serve as their starters. The Jays already had some depth when Liriano arrived as something of a salary dump, but a funny thing has happened — Liriano...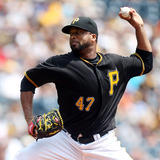 The Toronto Blue Jays apparently weren't finished after trading for veteran right-hander Scott Feldman earlier in the day on Monday. According to Robert Murray of FanRag Sports on Monday, the Jays have acquired lefty Francisco Liriano from the Pittsburgh Pirates. Source: Blue Jays get Liriano from Pirates — Robert Murray (@RobertMurrayFRS) August 1, 2016 Stephen J. Nesbitt...
MORE STORIES >>
Tigers News

Delivered to your inbox

You'll also receive Yardbarker's daily Top 10, featuring the best sports stories from around the web. Customize your newsletter to get articles on your favorite sports and teams. And the best part? It's free!