We've updated our Privacy Policy.
By continuing to use this site, you are agreeing to the new Privacy Policy.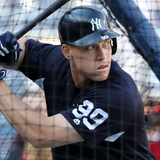 While the New York Yankees of the late 1990's didn't have many failures, the Hideki Irabu experiment clearly falls into that category. He had three awful years in New York before getting traded to the Montreal Expos. But if the Yankees hadn't traded for Irabu in 1997, they wouldn't have drafted Aaron Judge in 2013.It seems nuts, we concede. How can a trade in 1997 make an impact...
Not that there were any questions surrounding the death of former big leaguer Hideki Irabu, but the death certificate confirmed what we already figured out.The 42-year-old hurler died due to "hanging"..."self-inflicted with rope".Irabu played for the Yankees, Expos and Rangers...last pitching in the Majors in 2002.  He won World Series rings with the Bombers in 1998 and 1999.And...
His marriage in tatters, troubled ex-Yankees pitcher Hideki Irabu retreated into his empty suburban Los Angeles home -- and was found three days later after hanging himself, the New York Post reported Saturday. The 42-year-old hurler -- whose dream of major league stardom eluded him -- was found by a friend Wednesday, said Lt. David Smith, a spokesman for the LA County Department...
LIKE WHAT YOU SEE?
GET THE DAILY NEWSLETTER:
Hideki Irabu's famous teammates on the New York Yankees remembered him Friday as a talented pitcher who was fun to be around. The club held a moment of silence for Irabu at Yankee Stadium before Friday night's game against Baltimore, one day after news of his death spread. A picture of Irabu tipping his cap to the crowd was shown on the big video board in center field. Los Angeles...
When I first heard the news today of Hideki Irabu's passing, one of the first things that came to mind was a question: Will the Yankees hold a moment of silence for him before tomorrow's game at the Stadium? As every Yankee fan knows, Irabu's tenure with the team was an unsuccessful one, so much so that, when he left, he was forgotten quicker than you could say sayonara.  He was...
Los Angeles County coroner's officials say former New York Yankees pitcher Hideki Irabu died by hanging himself. Assistant Coroner Chief Ed Winter told The Associated Press in an email Friday that the 42-year-old Irabu's cause of death was hanging, and the mode was suicide. He says Irabu did not leave a note. Winter says a friend found Irabu dead in his home in the wealthy Los...
The long and troubling road of former New York Yankees pitcher Hideki Irabu came to a sad ending today.  The one-time Japanese Pacific League star, and Major League bust, was found dead at age 42 of an apparent suicide in his Rancho Palo Verdes, California home. Irabu was one of the of the key members of the great 1998 Yankees team which beat the San Diego Padres in the World Series...
MORE STORIES >>
MLB News

Delivered to your inbox

You'll also receive Yardbarker's daily Top 10, featuring the best sports stories from around the web. Customize your newsletter to get articles on your favorite sports and teams. And the best part? It's free!