Huston Street is done playing pro baseball - unless he isn't Sometimes we all wonder what happens to former Angels players - right? In this case, most fans were probably not sad to see Huston Street go after he struggled through injuries to end the 3rd and 4th years of his 4 year Angels contract. In fact, Street only tossed 4 innings in 2017 and just 22 in 2016 while the Angels...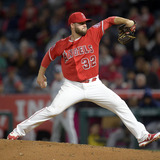 The Los Angeles Angels may be getting their lights-out closer back soon.The OC Register's Jeff Fletcher reports that Bedrosian faced batters Saturday during extended spring training. Fletcher believes Bedrosian is close to being sent out for a rehab assignment. Bedrosian, 25, last pitched on April 21 and went on the DL afterwards with a groin injury. He was 1-0 with three saves,...
Huston Street's season is not getting off to a good start.The Los Angeles Angels reliever left his spring training appearance on Friday after two batters with a triceps injury. He went for an MRI and was diagnosed with a strained lat. Street is in his fourth season with the Angels. He saved 81 games in his first two seasons with the team, but recorded just nine last season because...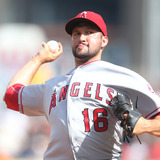 Los Angeles Angels owner Arte Moreno was rather blunt with reliever Huston Street when the two crossed paths at spring training.Moreno greeted his players as they arrived in Tempe, and a thinner Street got a unique greeting."I'm really glad you lost some weight," Moreno told Street, via Pedro Moura of the Los Angeles Times.Street lost about 15 pounds after letting himself go over...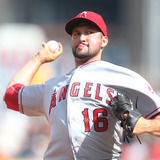 Angels closer Huston Street is finished for the year after undergoing arthroscopic surgery on his right knee Wednesday, but he's trying his best to remain upbeat about the whole situation. Street, who has been sidelined since early August, needed the procedure due to "persistent medial knee pain," but is expected to be back in 2017, per Bill Shaikin of the Los Angeles Times. ...
Angel closer Huston Street was standing on the orange, clay mound at Minute Maid Park last night, ready for the ninth inning to begin.  He had fired up his arm in the bullpen.  He had thrown all of his warm-up pitches while first baseman CJ Cron was slinging grounders to his fellow infielders behind him.  And then the first Astro batter stood in the box, focused on Street's right...
Huston Street isn't an expert on analytics. Nor does he claim to be. But he's by no means a neophyte. The veteran closer is more knowledgeable about advanced stats than the average player. He also has some strong opinions. A little over a year ago, Street shared his negative view of FIP in one of my Sunday Notes columns. This past spring, I approached him at the Angels' spring-training...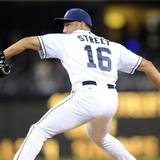 Huston Street's 2015 wasn't bad, per se, but it was disappointing given the Angels inked Street to a three-year extension in early May. Even if saves are a silly stat, a team would happily take their closer reaching the 40-save plateau every year; it means he was a) healthy/good enough to pitch that many innings, and b) hey 40 banked wins is pretty good. But you can't help but be...
Before Angels closer Huston Street blew a 3-run lead in the 9th inning against the Houston Astros on Sunday, the flu-stricken pitcher lost the contents of his stomach in the bullpen.  According to the Los Angeles Times, Street, who fell ill on Saturday, began throwing up in the sixth and seventh innings when the Angels mounted a 3-0 lead over the Astros. "When I started throwing...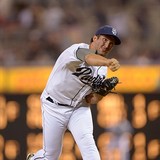 The September 16, 2015 edition of Los Angeles Angels news including the team's GM search expanding to seven candidates, Huston Street losing 13 pounds in three days due to flu-like symptoms and more… The Story: Angels interviewing at least four external candidates MWAH Says: I guess Billy Eppler isn't all that special after all. Arte Moreno and his posse aren't only stopping in...
MORE STORIES >>
Angels News

Delivered to your inbox

You'll also receive Yardbarker's daily Top 10, featuring the best sports stories from around the web. Customize your newsletter to get articles on your favorite sports and teams. And the best part? It's free!