We've updated our Privacy Policy.
By continuing to use this site, you are agreeing to the new Privacy Policy.
For years, Ivan Nova entered Spring Training with something to prove. He had to earn a spot in the Yankees rotation or, occasionally, anywhere on the team. He is far removed from those days now, however, having already been named the Pirates' Opening Day starter.
Ivan Nova will be the Pittsburgh Pirates' opening-day starting pitcher at Detroit on March 29. It is unclear whether he will remain with Pittsburgh through the entire season.
When pitching coach Ray Searage called Ivan Nova into manager Clint Hurdle's office on Wednesday morning, Nova's first thought was closer to fear than excitement.
LIKE WHAT YOU SEE?
GET THE DAILY NEWSLETTER:
Veteran right-hander Ivan Nova will start for the Pirates on Opening Day, manager Clint Hurdle announced on Wednesday. Jameson Taillon is scheduled to start Pittsburgh's home opener at PNC Park.
PITTSBURGH (AP) Ivan Nova can earn an additional $2 million annually in performance bonuses as part of his new contract with the Pittsburgh Pirates, which would raise his total to $32 million over three years if he makes 32 starts or pitches 200 innings in each season. As part of the $26 million, three-year deal announced Dec. 27, the right-hander gets a $2 million signing bonus...
PITTSBURGH (AP) Given a chance to explore the free agency market for the first time in his career, pitcher Ivan Nova methodically went through the process, listening to offers but never really changing his mindset. All things being equal - and just as importantly, all money being equal - Nova wanted to stick with the Pittsburgh Pirates, where the right-hander gave his uneven career...
The Marlins gave Edinson Volquez two years and $22 million. Now, I know what you might be thinking: The Marlins might have to issue bigger guarantees in order to convince players to join them. But I don't know that for sure. What I do know for sure is that Volquez turns 34 next summer. Last season he had a worse-than-average ERA, a worse-than-average FIP, and a worse-than-average...
PITTSBURGH (AP) A person with knowledge of the deal says pitcher Ivan Nova and the Pittsburgh Pirates have agreed to a $26 million, three-year contract. The person spoke to The Associated Press on condition of anonymity Thursday because the agreement had not been announced. Pittsburgh acquired Nova from the New York Yankees at the Aug. 1 trade deadline. Though the Pirates faded...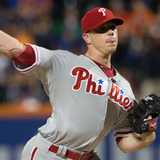 Jeremy Hellickson appears poised to test the free agent waters. According to a report from Fan Rag Sports' Jon Heyman, Hellickson is unlikely to accept a qualifying offer from the Philadelphia Phillies. The 29-year-old pitcher received a qualifying offer from Philadelphia this week for $17.2 million. If he declines it, the Phillies would receive a compensatory draft pick. Hellickson...
A year ago, when the Pirates were alive in the playoff race, they made what felt like a fairly uninspiring deadline trade for J.A. Happ. Happ was almost a giveaway, and no one really batted an eyelash about the Pirates' tiny upgrade, but then they made some very minor tweaks and Happ pitched the rest of the season like one of the better starters in the league. There was, at one point...
MORE STORIES >>
Pirates News

Delivered to your inbox

You'll also receive Yardbarker's daily Top 10, featuring the best sports stories from around the web. Customize your newsletter to get articles on your favorite sports and teams. And the best part? It's free!