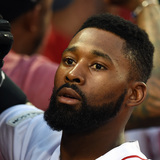 The Boston Red Sox adding JD Martinez does not necessarily mean that they will be trading Jackie Bradley Jr.MLB Network's Jon Morosi reported on Monday night that Boston is unlikely to trade Bradley Jr.: Signing Martinez gives Boston a crowd at DH and outfield.They have Andrew Benintendi in left, Bradley Jr. in center, and Mookie Betts in right. Martinez played left field during...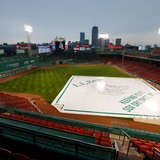 An alligator apparently wanted to get some time in the batting cage at the Red Sox's spring training complex.The small alligator was recently spotted at JetBlue Park in Fort Myers, Florida, just hanging out in the cage, which you can see in the photo below. Red Sox outfielder Jackie Bradley Jr. posted a funny reply to the photo, and had this to say about it:"All I have to say is...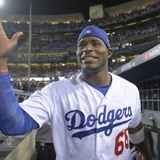 As Major League Baseball's offseason trickles along, we're starving for news. At this point, anything will do. How about some trade rumors? Or in this case, a trade offer that was already proposed and rejected? It turns out that the Los Angeles Dodgers are interested in Boston's Jackie Bradley, Jr. But the Red Sox aren't interested in the return—Yasiel Puig.According to Alex Speier...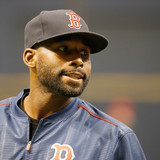 It's no secret, you guys — the Boston Red Sox need to find a legit power bat this winter. It also no secret as to the person they're pursuing to help fill that void.No American League team hit fewer home runs (168) or had a lower ISO (.149) than Boston in 2017, and perhaps no team appears to be more of a perfect match for current free agent J.D. Martinez than the Red Sox. One problem...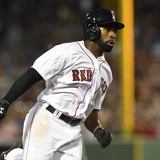 If the arms race is officially back on in the AL East, the Boston Red Sox have a lot of catching up to do. According to one report, they are willing to part with outfielder Jackie Bradley Jr. in order to add more pop to their lineup.Bob Nightengale of USA Today reported on Monday that the Red Sox are shopping Bradley around in pursuit of a power hitter. Bradley is one of the best...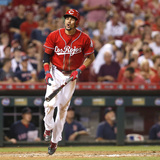 The San Francisco Giants are looking to improve their outfield this offseason, and Billy Hamilton is one of their targets.MLB Network's Jon Morosi says Hamilton is a player the Giants are interested in, along with Jackie Bradley Jr. Hamilton is under team control with the Cincinnati Reds for another two seasons before hitting free agency. Though he's stolen 50-plus bases in each...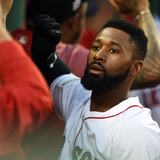 The San Francisco Giants are definitely going to upgrade one of the worst starting outfields in baseball this winter. Fresh off a disastrous 98-loss season, it's apparent this is the team's No. 1 goal.While that might start with looking into the viability of adding slugger Giancarlo Stanton from the Miami Marlins, Giants GM Bobby Evans and Co. are also looking at potential backup...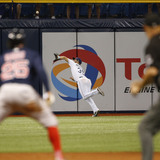 Tampa Bay Rays pitcher Chris Archer had the most appropriate response to Kevin Kiermaier's incredible catch on Friday night.The Rays lost to the Red Sox 13-6 in 15 innings on Friday. The game might have ended earlier if it weren't for Kiermaier's heroics in the top of the 9th. Take a look at this incredible catch he made to rob Jackie Bradley Jr. of extra bases: Statcast's tracking...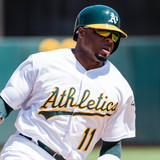 A hero of the 2016 postseason is making his way back to a contender. According to a report, the Boston Red Sox have landed Rajai Davis from the Oakland Athletics. What this means about Jackie Bradley Jr.'s injury remains to be seen. It could mean that the Red Sox at least fear that his injury is worse than originally hoped. It could also mean that Boston is just looking for a little...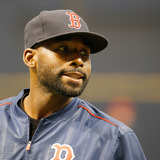 After injuring his left thumb sliding into home on Tuesday night, the Boston Red Sox have placed centerfielder Jackie Bradley Jr. on the 10-day disabled list. Andrew Browne of MLB.com noted that "Andrew Benintendi will play center in Bradley's absence, with Brock Holt and Chris Young splitting time in left."The Red Sox still sit in excellent shape for the playoffs. Boston entered...
MORE STORIES >>
Red Sox News

Delivered to your inbox

You'll also receive Yardbarker's daily Top 10, featuring the best sports stories from around the web. Customize your newsletter to get articles on your favorite sports and teams. And the best part? It's free!