We've updated our Privacy Policy.
By continuing to use this site, you are agreeing to the new Privacy Policy.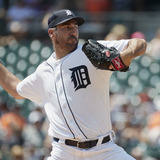 Just because the non-waiver trade deadline has come and gone, that doesn't mean we have to wait for winter. Yes, Virginia, there are still trades in August. While these sorts of trades are usually not all that exciting, sometimes you end up with something along the lines of the Nick Punto mega-deal. And things are lined up for a little August excitement, since Justin Verlander has...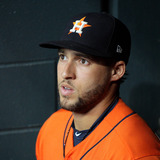 The Houston Astros game against the Oakland Athletics got off to a bad start for Houston. Star outfielder George Springer was hit by a pitch from Oakland's Jesse Hahn and left the game. Fortunately, there is a bit of good news for Springer and the Astros.Springer's left shoulder appeared to take the brunt of the impact. It's never fun to get hit. Still, a meaty part of the body like...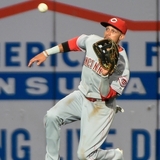 Billy Hamilton turned a sure double in the gap into a catch at the wall during the second inning of Cincinnati's game against Houston on Saturday, making a grab that will no doubt you leave you awestruck. Batting with two outs and a runner on third in the bottom of the second, the Astros' Jake Marisnick belted a ball to right center. Hamilton seemed to be playing Marisnick...
LIKE WHAT YOU SEE?
GET THE DAILY NEWSLETTER:
José Altuve is one of the most lethal hitters in Major League Baseball. The Houston Astros second baseman has collected 200 hits in both of the past two seasons, putting him in elite company. But just because Altuve is a great player doesn't mean he's beyond the clubhouse teasing teammates love to dole out. Recently, Astros centerfielder Jake Marisnick decided to remind Altuve...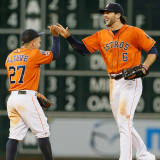 No matter how old he is nor how good he gets, Jose Altuve will probably never stop hearing short jokes. He even still gets them from teammates. Check out what Houston Astros outfielder Jake Marisnick posted to Twitter Tuesday morning: @JoseAltuve27 pic.twitter.com/z6Lgg0HU8C — Jake Marisnick (@JSMarisnick) March 29, 2016   We get it, Altuve is short. No need for him to get...
The Houston Astros just activated outfielder Jake Marisnick off the DL, and on Sunday he did something that very well could have put him right back on it. With his team down by two in the sixth the Red Sox had two on and two outs he stole what would have been a multi-base hit for Brock Holt (and two more runs for the Red Sox) with a tremendous catch to end the inning.Jake Marisnick...
Mike Ehrmann/Getty Images North America Over the next 45 days the staff here at The Fix will profile and predict the fantasy fates of prospects that could – should, in some cases – be closely monitored on the waiver wire or even in the draft room. For the projection portion of the article, we will try our best to give you projections from all three major projection systems. Those...
MORE STORIES >>
Astros News

Delivered to your inbox

You'll also receive Yardbarker's daily Top 10, featuring the best sports stories from around the web. Customize your newsletter to get articles on your favorite sports and teams. And the best part? It's free!