The teenage shortstop is a hidden gem uncovered by Detroit's front office. Isaac Paredes was initially seen as a secondary piece when the Detroit Tigers dealt Justin Wilson and Alex Avila to the Cubs last July. Jeimer Candelario hit the ground running a few weeks later and it was clear that the Tigers had landed a legitimate talent in their new third baseman. But Paredes continued...
We are now 25 days away from Opening Day and that means teams will need to start cutting down their roster. The Tigers have had some impressive players, but here are three that have stood out. Jeimer Candelario Despite playing in just 27 games last season for the Tigers, Candelario impressed, hitting .330 with two home runs and seven doubles. In 2018, he is going to be the Tigers...
The Astros have shipped first baseman Yuli Gurriel to Houston so his injured hand can be evaluated, Jake Kaplan of The Athletic reports (Twitter link). At this point, the situation is more or less a mystery, with no real indication how the issue arose or just what the club is concerned about. Clearly, though, the team's training staff has found cause to get a closer look from a specialist...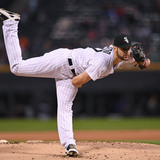 Expanded rosters change Major League Baseball in a big way in the month of September. The ability to carry up to 40 players on the big-league team gives clubs the opportunity to do much more than when they are limited to 25 players. They can load their bullpen with every conceivable matchup; pile up potential pinch hitters; and for clubs out of contention — and even a few teams still...
The Cubs traded for Justin Wilson and Alex Avila. Below are the projections for the prospects the Tigers received in exchange for their services. WAR figures account for the player's first six major-league seasons. KATOH denotes the stats-only version of the projection system, while KATOH+ denotes the methodology that includes a player's prospect rankings. Jeimer Candelario, 3B ...
Late Sunday night the Cubs and Tigers agreed to a deal sending Justin Wilson and Alex Avila to Chicago in exchange for INF Jeimer Candelario, INF Isaac Paredes and either cash or a player to be named later. Chicago gets C Alex Avila LHP Justin Wilson Detroit gets INF Jeimer Candelario INF Isaac Paredes Candelario, now 23, is a known talent. He has long been a promising offensive...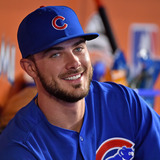 Kris Bryant may have been optimistic about avoiding a DL stint, but apparently the Chicago Cubs are a little more concerned about the status of their third baseman.Bryant sprained his ankle during Wednesday's game, though the reigning MVP said Thursday he was feeling better and hopeful he would avoid the DL. Cubs manager Joe Maddon apparently feels otherwise.According to the Chicago...
Over the weekend, the Cubs called up third baseman Jeimer Candelario to replace the injured Chris Coghlan on the roster. Candelario enjoyed a breakout season last year, when he hit .277/.339/.431 as a 21-year-old between High-A and Double-A. He carried some of that success over to 2016 by hitting .249/.359/.428 between Double-A and Triple-A this year. This included a beastly .333...
MORE STORIES >>
Tigers News

Delivered to your inbox

You'll also receive Yardbarker's daily Top 10, featuring the best sports stories from around the web. Customize your newsletter to get articles on your favorite sports and teams. And the best part? It's free!