We've updated our Privacy Policy.
By continuing to use this site, you are agreeing to the new Privacy Policy.
Am I really going to spill digital ink about John McDonald? Is it really worth spending time reviewing the season of a guy who was more coach than player? I guess we're about to find out. Why is John McDonald?The best I can tell, McDonald existed on the Angels roster because of their desire to improve team chemistry. McDonald has purportedly lasted in this league as long as he had...
John McDonald just completed his 15th big-league season. The 39 year-old infielder played for four different teams in 2013, finishing the season with the Boston Red Sox. In between, he played for the Pittsburgh Pirates, Cleveland Indians, and the Philadelphia Phillies.   Calling McDonald a light-hitting shortstop would do Brendan Ryan a disservice. He possesses a career .235/.274...
In an attempt to bolster their infield depth for stretch run, the Boston Red Sox acquired veteran infielder John McDonald from the Philadelphia Phillies on Saturday night in exchange for Single-A pitcher Nefi Ogando. The Red Sox will become McDonald's fourth team this season but Boston mainly acquired him for his leadership on and off the field and versatility. Despite only hitting...
LIKE WHAT YOU SEE?
GET THE DAILY NEWSLETTER:
The Red Sox acquired infielder John McDonald in a trade with the Philadelphia Phillies on Saturday. McDonald adds depth all over the infield and gives AL East-leading Boston an experienced glove for the stretch drive. Because the move was made by the end of August, McDonald is eligible to play for Red Sox in the postseason. The Phillies received minor league right-hander Nefi Ogando...
McDonald, seen here celebrating his only homer in 2013 as a Phillie with Chooch. Photo by AP. Color me surprised: Ruben Amaro Jr. found a taker for Major League Baseball's most statistically ineffective player John McDonald, shipping the utility infielder he got for nothing for Nefi Ogando, a 24-year old reliever from the Dominican Republic in his fourth season in organized baseball...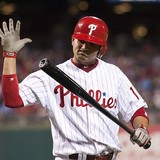 Galvis with Reading in 2011, image- Jay Floyd Following Thursday's acquisition of infielder John McDonald from Cleveland, the Phillies made room on their active big league roster by demoting infielder Freddy Galvis to Triple-A Lehigh Valley. McDonald, a veteran of 15 major league seasons, has a career .235 batting average and a .605 career OPS mark.  The 38-year-old posted a .053...
John McDonald has rejoined the Cleveland Indians nearly nine years after playing his last game for his first major league team. McDonald was in uniform and on the bench for the Indians' game Tuesday night in Texas. The Indians reacquired the 38-year utility infielder from Pittsburgh on Monday. He was sent to the Indians after the Pirates recalled him from a rehab assignment and...
The Cleveland Indians have acquired infielder John McDonald from the Pittsburgh Pirates for a player to be named or cash considerations. McDonald was sent to the Indians on Monday after the Pirates recalled him from a rehab assignment with Triple-A Indianapolis and activated him from the 15-day disabled list. The 38-year-old McDonald spent his first six seasons with Cleveland starting...
MORE STORIES >>
Angels News

Delivered to your inbox

You'll also receive Yardbarker's daily Top 10, featuring the best sports stories from around the web. Customize your newsletter to get articles on your favorite sports and teams. And the best part? It's free!