We've updated our Privacy Policy.
By continuing to use this site, you are agreeing to the new Privacy Policy.
Jordan Lyles takes the bump vs. the Cubs. After a really rough outing in his last Spring Training start Jordan Lyles will get another audition for the starting rotation (or bullpen) in today's game vs. Chicago (NL version) in Peoria. No one will blame you if you missed Lyles' last start; it wasn't pretty. His spring so far hasn't been strong either: in 3 starts and 5 innings pitched...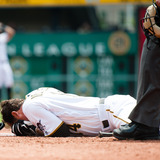 Pittsburgh Pirates pitcher Ryan Vogelsong left Monday's game against the Colorado Rockies in the second inning after being hit in the face by a pitch. Vogelsong was batting with the bases loaded and one out in the second inning when Rockies right-hander Jordan Lyles appeared to strike him in the face with a 92-mph fastball. Vogelsong fell immediately in the batter's box, where head...
  He might be the forgotten member of the Colorado Rockies rotation, but he also might be the key to the club becoming respectable. Jordan Lyles and the Rockies avoided arbitration on Wednesday, signing a 1-year $2.95 million deal. The deal makes sense for both sides, giving Lyles a modest raise after an injury-shortened season. The righty was acquired by the Rockies from the Houston...
LIKE WHAT YOU SEE?
GET THE DAILY NEWSLETTER:
On Wednesday the Rockies pitching staff took a blow as the team announced Jordan Lyles will have season ending surgery to repair a torn ligament on his toe. #Rockies Jordan Lyles done for year. pic.twitter.com/yaH2bQ1F1Q — Mark Haas (@markhaastv) June 3, 2015 Lyles said he didn't know toe had an MCL. Described his surgery as Tommy John for the toe. — Mark Haas (@markhaastv)...
  These are the games that good teams win. They are also the games that bad teams lose. The Colorado Rockies are the latter, and therefore they lost this time. The final score was 4-3. Jordan Lyles was very good again on Monday, but he spoiled a really good outing with something that has become a trend for him. He struggled in the 6th inning. Through five innings, Lyles had given...
When evaluating the Colorado Rockies first 45 games of this 2014 baseball season several players standout. Whether it's Troy Tulowitzki reminding Rockies fans that when healthy he's an MVP candidate or Charlie Blackmon's emergence in the outfield, Rockies fans have a lot to be pleased about. However, the unexpected play of newcomer Jordan Lyles makes him the purple and blacks best...
Jordan Lyles Promising Early Jordan Lyles struck out five in his first start for the Colorado Rockies. Is this a sign of things to come for Lyles and the Rox? With Tyler Chatwood resting a bum hamstring, the Colorado Rockies turned to Jordan Lyles to fill the void in the starting rotation. Lyles didn't disappoint. Although it is early, there are glimpses of a great opportunity for...
If I were to tell you that there was a pitcher who had a 2.87 FIP, a .98 WHIP, a miniscule 3.7 BB rate, and a .67 HR/9 ratio in the month of June, and that he was availble for next to nothing in your AL-Only, would that peak your interest? That pitcher is Jordan Lyles, who has been absolutely dominant over his last 44 1/3 innings (From Paul Sporer on the Baseball Prospectus fantasy...
MORE STORIES >>
Padres News

Delivered to your inbox

You'll also receive Yardbarker's daily Top 10, featuring the best sports stories from around the web. Customize your newsletter to get articles on your favorite sports and teams. And the best part? It's free!