While the Tigers' Major League club was toiling through a long afternoon against the Rays in Port Charlotte, Jordan Zimmermann had an easier Sunday on the back fields at Tigertown.
Jordan Zimmermann will start the Tigers' season opener March 29 against the Pirates.
This will be Zimmermann's first Opening Day nod in Detroit No, it's not April 1st. Jordan Zimmermann will be the Opening Day starter at Comerica Park on March 29. While most fans (and writers) believed Michael Fulmer, the team's de facto ace following Justin Verlander's trade, would be the natural choice to get the nod on Opening Day, apparently manager Ron Gardenhire did not agree...
Jordan Zimmermann speaks a language of optimism. When things have gone wrong the past couple of years, he often said he's a pitch away from the adjustment or solution that will get him back to his better form.
Strong mound performances dictated the pace in this one. The Detroit Tigers, behind all-around strong pitching performances, earned a tie in their latest Grapefruit League action against the New York Yankees. The two teams played to a 2-2 deadlock on Tuesday. Zimmermann Shines Turning in his best performance of the spring, Zimm looked very comfortable over five shutout innings...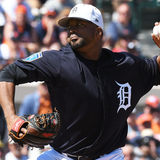 The Royals would still like to add help in either the rotation or the bullpen, tweets USA Today's Bob Nightengale, but their payroll is elevated to the point where they have very little room for further additions. As such, a reunion with still-lingering free agent Greg Holland seems "extremely remote," Nightengale adds. Over the past couple of weeks, the Royals have signed Lucas...
Jordan Zimmermann looked like he was in for a long afternoon after two home runs in a three-pitch span in the opening inning on Thursday. He threw Starling Marte and David Freese sinkers, but they both cut over the plate before being sent out to right for opposite-field home runs that left Zimmermann shaking his head.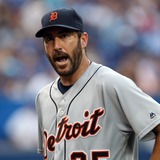 If you want to know how Detroit Tigers players felt about their late team owner Mike Ilitch, look no further than their social media channels.Multiple current and former Tigers players honored Ilitch, who died on Friday at the age of 87, with tributes on Twitter.From current stars Justin Verlander and J.D. Martinez to former players like C.J. Nitkowski and Ian Krol, Ilitch was praised...
Detroit Tigers starting pitcher Jordan Zimmermann has had quite a roller coaster season this year. The beginning of the season looked so promising for the new Tigers acquisition. But after struggling with neck pain and two stints on the DL, it looks like he is done pitching for the remainder of the 2016 season. The right-hander came off the DL earlier this month and claimed to be...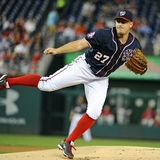 Most of the good action starts early on this short slate of MLB games, as we've had to dig pretty deep to get a couple intriguing matchups for today. Check 'em out! José Quintana (CWS) versus Jordan Zimmermann (DET) 1:10 p.m. ET Quintana still can't buy a win against the Twins, as his only (team) losses in his last six starts have come at the hands of the hot-hitting team from...
MORE STORIES >>
Tigers News

Delivered to your inbox

You'll also receive Yardbarker's daily Top 10, featuring the best sports stories from around the web. Customize your newsletter to get articles on your favorite sports and teams. And the best part? It's free!