You're wondering if that's a real person, but there is interesting visual evidence to share. Where were you when you learned that the Giants signed Jose Dominguez to a minor-league deal? Probably right there. Wherever you are right now. Please, hold off texting family and friends until the end of the article. The Giants will sign, dunno, a dozen minor-league free agents before the...
The Rays DFA'd Jose Dominguez today, and while he's young enough that he could still figure it out at some point, that puts something of a capper on a trade that hasn't really worked out for anyone. You know that Joel Peralta has been a disaster for the Dodgers. Greg Harris is only 20, but was never really much of a prospect. Dominguez missed time with a shoulder issue, got into...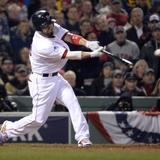 Boston Red Sox's Shane Victorino watches his double off Tampa Bay Rays relief pitcher Jose Dominguez during the ninth inning of a baseball game Tuesday, April 21, 2015, in St. Petersburg, Fla. The Red Sox won the game 1-0. (AP Photo/O'Meara) The Boston Red Sox are having a solid start to the 2015 MLB season as they find themselves at the top of the American League East with an 8...
TORONTO (AP) The Tampa Bay Rays recalled right-hander Jose Dominguez from Triple-A Durham on Wednesday. He replaces right-hander Kirby Yates, who was optioned to Durham following Tuesday's win over the Blue Jays. Dominguez had one save in two appearances at Durham this season. He had a 6.14 ERA in 14 relief appearances for the Los Angeles Dodgers in the 2013 and 2014 seasons, his...
G IP K% BB% ERA FIP xFIP WAR MiLB (AAA) 31 33.1 25.8% 11.9% 3.24 3.73 n/a n/a MLB 5 6.1 26.7% 10.0% 11.37 6.61 4.06 -0.1 What happened in 2014: Went to Australia, struggled in limited time, stayed in Triple-A most of the season. As a once-promising relief prospect, Jose Dominguez has struggled to stay healthy in his first two MLB seasons, which essentially took him out of the Dodgers...
It didn't take long for Andrew Friedman to make a deal with his old organization. The Dodgers on Thursday night acquired right-hander Joel Peralta and left-hander Adam Liberatore for flame-thrower Jose Dominguez and Low-A prospect Greg Harris. At first glance, it seems like a pretty reasonable trade. The Dodgers get a dependable reliever and a lefty option for a guy who probably...
Tonight, the Dodgers begin a four game series against the Phillies, and they didn't wait for the game to start to start making news. Jose Dominguez was called up to give assistance to a weary relief staff. In a corresponding move, Chone Figgins was optioned to Albuquerque. Eric Stephen notes that Figgins had two options left but had to approve being sent to the minors. This type...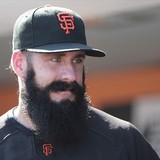 SAN DIEGO (AP) The Los Angeles Dodgers have placed reliever Brian Wilson on the 15-day disabled list, retroactive to Monday, with inflammation in the ulnar nerve in his right elbow, and recalled right-hander Jose Dominguez from Triple-A Albuquerque.
The Los Angeles Dodgers have brought up right-hander Carlos Marmol from the minor leagues and placed right-hander Jose Dominguez on the 15-day disabled list with a strained left quadriceps. After being designated for assignment by the Chicago Cubs, Marmol was acquired by Los Angeles on July 2. He made three appearances at Class A Rancho Cucamonga and two for Double-A Chattanooga...
MORE STORIES >>
Giants News

Delivered to your inbox

You'll also receive Yardbarker's daily Top 10, featuring the best sports stories from around the web. Customize your newsletter to get articles on your favorite sports and teams. And the best part? It's free!