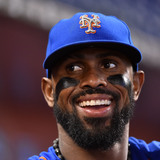 Before the Milwaukee Brewers stole every available headline with their two big splashes Thursday night, the New York Mets actually made a move. It was another familiar one, too.On the heels of re-signing outfielder Jay Bruce to a three-year deal after trading him away last July, New York agreed to terms on a one-year, $2 million deal with veteran infielder Jose Reyes. The Mets have...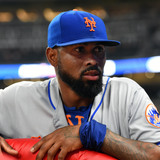 The Mets have agreed to re-sign infielder Jose Reyes, according to Ken Rosenthal of The Athletic (via Twitter). It's a one-year deal that appears to be of the MLB variety, though terms are not yet known.While this move may not bring quite the impact Mets fans have been hoping for from an infield signing, it seems the plan is not to utilize Reyes as a regular. Instead, per Rosenthal...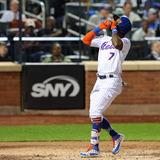 Jose Reyes is right where he wants to be.Speaking with the media on Friday after he clubbed two home runs in a 5-1 victory over the Cincinnati Reds, the veteran New York Mets infielder said that he would like to finish his career with the team."Did I want to come here? For sure," said Reyes, per Mike Puma of the New York Post. "Do I want to finish my career here? One hundred percent...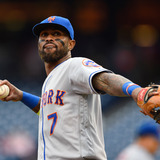 Jose Reyes has seen his reputation crumble since he was arrested in November 2015 following domestic violence allegations. The charges against the veteran infielder were dropped, but the troubling details about his personal life continue to pile up.Last month, model and TV host Christina Sanchez filed a lawsuit against Reyes, who she says is the mother of her 7-year-old daughter...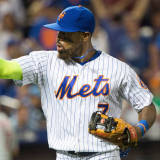 Expect Jose Reyes to be a versatile player next season. The New York Mets have said they will try Reyes out in the outfield during spring training. On Tuesday, manager Terry Collins said that Reyes could see time in center field. Terry Collins said Jose Reyes may see some time at CF if needed. They may prep Michael Conforto & Travis d'Arnaud for 1B in event of injury. —...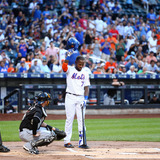 Jose Reyes spent the first nine seasons of his major league career with the Mets before departing as a free agent to sign with the Marlins. After subsequent stints with the Blue Jays and Rockies, Reyes has returned to New York. Last October, Reyes was arrested on domestic violence charges, which were eventually dropped. However, Major League Baseball still suspended the 33-year...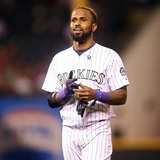 Colorado Rockies shortstop Jose Reyes will be eligible to return from administrative leave on Wednesday. When he does, it will be on a rehab assignment with Colorado's Triple-A club, the Albuquerque Isotopes. #Rockies manager Walt Weiss says INF Jose Reyes will be sent to @ABQTopes tomorrow to start a Minor League rehab assignment — Thomas Harding (@harding_at_mlb) May 31, 2016...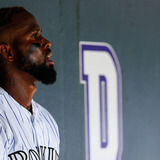 The Colorado Rockies have a young shortstop in Trevor Story that's setting Coors Field on fire thus far this season. They also have a $24 million headache behind Story on the depth chart. That headache comes in the form of veteran Jose Reyes, who is on paid leave while Major League Baseball investigates an alleged domestic violence incident between Reyes and his wife. While Reyes...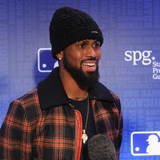 This is the silly season, the time of year we contemplate baseball, free from the whip-around of everyday play. So with the news of Jose Reyes' arrest on Halloween, I find myself pondering something that isn't silly at all: the violence visited upon women by men who play the game and my trepidation at how that violence will be handled. Violence occupies an odd place in baseball...
Here is tonight's lineup which has Gary Sheffield batting sixth. Jose Reyes, SS Daniel Murphy, LF David Wright, 3B Carlos Delgado, 1B Carlos Beltran, CF Gary Sheffield, RF Brian Schneider, C Luis Castillo, 2B Oliver Perez, P Mike Pelfrey has been diagnosed with forearm tendinitis after an MRI on Tuesday. More on that later on. Following Perez's season debut last week in Cincinnati...
MORE STORIES >>
MLB News

Delivered to your inbox

You'll also receive Yardbarker's daily Top 10, featuring the best sports stories from around the web. Customize your newsletter to get articles on your favorite sports and teams. And the best part? It's free!