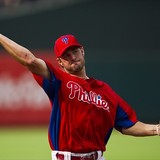 Former Phillies player Kevin Frandsen joined the Washington Nationals after being cut by the Phillies. Frandsen was "pissed" that the Phillies released him prior to the season. But it is now other Nationals players who might be "pissed" at Kevin Frandsen. Frandsen made some comments that have upset some of...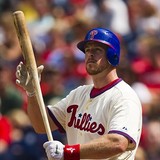 One of the strangest developments of this long Phillies offseason was the announcement Sunday that Kevin Frandsen had been outrighted to Lehigh Valley. Frandsen elected not to accept the assignment and decided to become a free agent, forfeiting his previously guaranteed $900,000 salary. It was a pretty risky move for Frandsen to forgo nearly a million bucks after all teams passed...
Right-handed pitcher Mike Stutes, who was outrighted by the Phillies early in March, has officially been released by the club. It was hardly a shocking move, as Stutes pitched in just three innings this spring and struggled mightily, allowing seven earned runs on five hits while walking three. Stutes was a pleasant surprise as a rookie for the Phillies with a lively fastball out...
Utility infielder Kevin Frandsen has elected free agency per Philadelphia Inquirer Phillies beat writer Matt Gelb. Frandsen will forfeit a $900,000 bonus by doing so. He was outrighted off the Phillies 40-man roster on Sunday and will now be free to sign with any major league team. Frandsen led all of major league baseball last season with 14 pinch hits but he struggled this spring...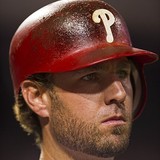 Kevin Frandsen cleared waivers and has been sent to Lehigh Valley, according to the beat reporters in Florida. Frandsen, 31, has spent the last two seasons with the Phillies as one of their first bats off the bench. He can refuse the outright assignment and become a free agent or accept it and take the $900,o00 he's owed by the Phillies. Last season, he struggled with more playing...
(mlb.com) If you had to guess who had the best batting average for the Philadelphia Phillies in 2012, who would it be? Chase Ultey? Carlos Ruiz? Placido Polanco? Maybe even Shane Victorino? All of those would be wrong. The correct answer would be journeyman infielder Kevin Frandsen. Okay, so technically this isn't true, as Frandsen did not qualify to have the highest batting average...
Kevin Frandsen was signed as a minor-leaguer in 2011 and never made it to the big club, instead playing in AAA while getting hit with a 50-game suspension for taking Adderall that was not cleared before use.  In 2012 Frandsen appeared to be an after thought; despite all the Phillies' early injuries playing time went to Pete Orr and Michael Martinez.   Frandsen shined for the Lehigh...
MORE STORIES >>
MLB News

Delivered to your inbox

You'll also receive Yardbarker's daily Top 10, featuring the best sports stories from around the web. Customize your newsletter to get articles on your favorite sports and teams. And the best part? It's free!