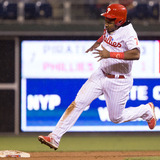 One MLB team that apparently believes that the advanced stats movement has its detriments is the Philadelphia Phillies.Jon Heyman of FanRag Sports reported earlier this week that the Phillies believe that an overemphasis on stats and analytics has distracted third baseman Maikel Franco from playing to his full potential.Per Heyman:[Phillies bench coach] Larry Bowa expressed frustration...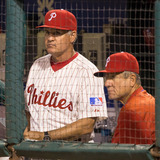 Philadelphia Phillies bench coach Larry Bowa has been in the sport of professional baseball for the last four-and-a-half decades. And when it comes to Tim Tebow's big-league aspirations, he has some very strong opinions. In an interview with Nick Cafardo of the Boston Globe over the weekend, Bowa called Tebow's experiment disrespectful to the game. "Whoever's idea it is, they don...
By Steve DelVecchio Philadelphia Phillies bench coach Larry Bowa went ballistic on Tuesday night, and it appears his frustration was at least two days in the making. During the seventh inning of a 6-5 loss to the New York Mets, Phillies outfielder Jeff Francoeur jumped out of the dugout to protest after Mets reliever Hansel Robles tried to quick-pitch Darin Ruf as Ruf was still...
When the Phillies hired their former player, coach, and manager Larry Bowa, everyone knew that he had an explosive personality. After a relatively quiet March, April, and May, Bowa has become his old self. On 97.5 the Fanatic with Tony Bruno and Harry Mayes, Bowa gave a very blunt assessment...
The Phillies Nation Top 100 continues today with #57. Our mission is to assess the Top 100 Phillies players of all time using impact to the Phillies, individual achievement, team achievement, traditional stats, and analytics as our criteria. The list was compiled by Ian Riccaboni and Pat Gallen with input from the rest of the Phillies Nation staff.  From this point forward, each...
Big news today coming from the Phillies as the team announced that Larry Bowa will return to the coaching staff for the 2014 season as Ryne Sandberg's bench coach while Pete Mackanin returns to the team as Sandberg's third base coach. The three men, Bowa, Macknanin, and Sandberg, couldn't possibly be more intertwined. Bowa and Sandberg were traded on January 27, 1982 in a deal that...
Larry Bowa said Tuesday that he will not be the Houston Astros' next manager, saying that he and Astros GM Jeff Luhnow agreed that the team needs to go with someone younger. Bowa, 66, said that while he was "very impressed" with Luhnow, the team faces a lengthy rebuilding process and would be better served by a manager who could grow with the club. The Astros interviewed Bowa last...
Former Phillies All-Star, player, and manager Larry Bowa may get one more chance in the major leagues.  According to MLB.com, Bowa met with Astros General Manager Jeff Luhnow today in Houston.  The Astros have been interviewing for a new manager in recent days after manager Brad Mills was dismissed a few weeks ago. Though Luhnow would not explicitly state Bowa was interviewing...
Interview Conducted by Brian Waller, AngelsWin.com Feature WriterIntensity is something you can't teach. It's not a pitch you can practice in the bullpen; it's not a flaw in your swing you can fix in the batting cages. It's an intangible that doesn't show in stat lines on the back of baseball cards. It's a personality trait that is found in winners and leaders throughout baseball...
Former Phillies shortstop and manager Larry Bowa joined The Sports Bash with Mike Gill on 97.3 ESPN FM on Tuesday. Bowa had some strong remarks about the makeup of the current Phillies roster when comparing them to the Phillies teams of the late-70′s and early-80′s.Bowa said that he gives the advantage to Jimmy Rollins when it comes to the two shortstops, but he did mention that...
MORE STORIES >>
MLB News

Delivered to your inbox

You'll also receive Yardbarker's daily Top 10, featuring the best sports stories from around the web. Customize your newsletter to get articles on your favorite sports and teams. And the best part? It's free!