We've updated our Privacy Policy.
By continuing to use this site, you are agreeing to the new Privacy Policy.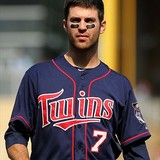 The Tampa Bay Rays got clutch hitting late in the game to beat the Minnesota Twins on Sunday, 10-7 in 10 innings.  Starting pitcher Chris Archer threw nine pitches in is one inning of work. He recorded a strike out and gave up one walk (to Joe Mauer). Jake Odorizzi also pitched well as he threw seven pitches in the second inning to record three outs.. But the real story was the Rays...
The Tampa Bay Rays opened their spring training season on Saturday with a loss to the Pittsburgh Pirates and a win against the Boston Red Sox.  Roberto Hernandez and Jeff Niemann both pitched against the Pirates. Both needed just 23 pitches to get out of the first and second innings. Newcomers Wil Myers and James Loney went 0-3 combined in the 3-2 loss to Pittsburgh. The Rays' other...
Authorities say a former NBA referee shot and killed himself in a suburban New Orleans hotel room on the same day his wife was found strangled at their Houston area home. A law-enforcement official in Montgomery County, Texas, says Troy Raymond was a person of interest in the death of his wife, Leslie Anderson Raymond, whose body was discovered last Thursday at their home in Spring...
LIKE WHAT YOU SEE?
GET THE DAILY NEWSLETTER:
The Rays will now embark on a four-city, 11-game, 12-day roadtrip. If you are curious what that looks like as mapped out by our own Brian Anderson, you are in luck… Related posts: Do You Ever Wonder If Brian Anderson Gets Staats'Fro-Envy? Leslie Anderson And Justin Ruggiano Designated For Assignment Sickels On Leslie Anderson © The Professor for Rays Index, 2011. | Permalink...
Marc Topkin is reporting that the Rays have designated Leslie Anderson and Justin Ruggiano for assignment. The move clears space on the 40-man roster for Johnny Damon and Manny Ramirez. The Rays now have 10 days to trade Anderson and Ruggiano or have them subjected to waivers. Moving Ruggiano means(...)Read the rest of Leslie Anderson And Justin Ruggiano Designated For Assignment...
Last week, Leslie Anderson, the Rays prospect that defected from Cuba, won the Arizona Fall League's Rising Stars game with a walk-off home run. John Sickels of Minor League Ball now offers his thoughts on Leslie Anderson, a player some think could be the Rays first baseman in 2011… Cuban defector seems to excite some people with his tools, and he did hit .302/.359/.442 this year...
Back in March, the Rays signed Cuban defector Leslie Anderson to a 4-year, $3.75 million contract. After starting the season in single-A, Anderson has moved very quickly through the organization hitting .303/.371/.453 with 9 home runs at three different levels. With his recent promotion to triple-A Durham, it seems almost certain that he will be promoted to the Rays during the September...
Leslie Anderson, a non-drafted free agent who defected in September and signed a four-year deal worth $3.75 million with the Rays on March 11, left Cuba hoping that one day, he would get a chance to play baseball in the big leagues and provide a comfortable life for his family.
MORE STORIES >>
Rays News

Delivered to your inbox

You'll also receive Yardbarker's daily Top 10, featuring the best sports stories from around the web. Customize your newsletter to get articles on your favorite sports and teams. And the best part? It's free!