In a game of inches, starter Marco Estrada — not known for throwing heat — is constantly looking for an edge. A slight change of grip could make all the difference.
In a game where pitchers are throwing faster than 100 miles per hour, in theory, somebody who throws 90 miles per hour shouldn't have a hope of surviving. Marco Estrada has made a living as a soft tosser, where topping out at 92 MPH is just as good as throwing 103 MPH gas. The key to Estrada's success has always been his signature pitch: the changeup. Since 2015, it's been one of...
Ken and Sid talk about the Blue Jays resigning Marco Estrada to a one-year deal worth $13 million dollars that has both thinking it was a good move by the team.
Toronto Blue Jays general manager Ross Atkins meets with the media to discuss signing Marco Estrada to one-year extension.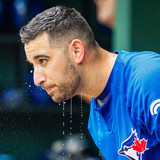 The Toronto Blue Jays and pitcher Marco Estrada are close to agreeing to a contract extension, according to a report.MLB Network's Jon Morosi reports the news on Estrada and Toronto. After beginning his career in the National League with the Brewers and Nationals, Estrada began having his most success after Toronto acquired him prior to 2015. He went 13-8 with a 3.13 ERA in his first...
Should the Blue Jays bring back Marco Estrada? Tim and Sid debate if the the team will commit to the right-hander long term.
Toronto Blue Jays pitcher Marco Estrada talks about his team playing close games against the Chicago Cubs and how great it was to see all the Jays fans in attendance at Wrigley.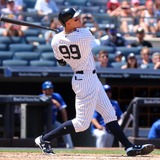 Yankees rookie slugger Aaron Judge is out there breaking records on a daily basis, and sure enough, he tied Joe DiMaggio for another big one on Wednesday.Judge crushed a pitch from Marco Estrada in the fourth inning of the Jays-Yankees game, resulting in a two-run dinger — his 29th of the year. That tied him with DiMaggio for the most home runs in a season by a Yankees rookie, which...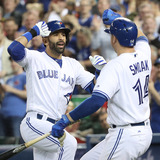 It was not too long ago that the obituary for the 2017 Toronto Blue Jays was all but written: "The Blue Jays, recent champions of the American League East division, died suddenly in May of 2017, following a sudden and brutal April debut. Major League Baseball's last remain Canadian outpost was celebrating its 40th season and hopeful for a continued run of excellence, having just...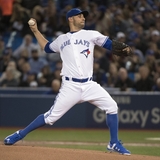 There is nothing exceptional about Marco Estrada. I say that not only as a general watcher of baseball, but also a Brewers fan who got to see him pitch from 2010 through 2014. But as he showed us Thursday afternoon in Texas, you don't need to be exceptional to be effective. Don't believe me? Just ask Cole Hamels, who used to be both. Nowadays, he's typically just the latter. On...
MORE STORIES >>
Blue Jays News

Delivered to your inbox

You'll also receive Yardbarker's daily Top 10, featuring the best sports stories from around the web. Customize your newsletter to get articles on your favorite sports and teams. And the best part? It's free!