As we approach Opening Day 2018 for the Milwaukee Brewers, Andy Schaaf joins Steve, Ryan and J.P. with prop bets to follow throughout the season. Who will lead the team in home runs? Over/Under 14.5 sac bunts by position players. Will Matt Albers get one save this year? Fill out your own form to compete with the guys and the rest of the Milwaukee's Tailgate listeners: https://goo...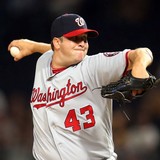 The Brewers and free agent righty Matt Albers have reached an agreement on a two-year deal, reports Ken Rosenthal of The Athletic. Albers, a client of SSG Baseball, will be guaranteed $5MM on the contract and can earn another $1MM each year based on total appearances, according to Sportsnet's Ben Nicholson-Smith. The deal is pending a physical.Albers, who turned 35 last week, was...
Latest Reports Adam Rubin of ESPN New York brings up right-handed reliever Matt Albers as a potential target the Mets will look at as they seek to upgrade their bullpen. The Mets have shown serious interest in Albers in the past, and are expected to do so again this offseason. Albers, 32, went 2-0 with a 1.21 ERA in 30 appearances for the Chicago White Sox in 2015. He missed three...
Matt Albers was an interesting case in 2013, finishing the year with a 3.14 ERA in 56 games. Despite this perceived success, he was almost never used in significant situations. He came into just 15 games when the Indians were tied or had the lead and just 23 games that were within two runs. Albers was most often brought into the game during the sixth through eighth innings, when...
MORE STORIES >>
Brewers News

Delivered to your inbox

You'll also receive Yardbarker's daily Top 10, featuring the best sports stories from around the web. Customize your newsletter to get articles on your favorite sports and teams. And the best part? It's free!