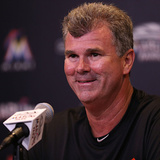 By Dave Cameron On Sunday, the Marlins fired manager Mike Redmond. It's what teams do when they find themselves performing worse than expected, even if expectations of contention were probably less realistic than the hype would have suggested. The manager is the fall guy when things go badly, though, and things are going badly in Miami, so Redmond was shown the door. It's how baseball...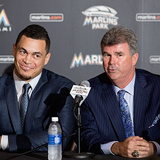 By Steve DelVecchio After firing manager Mike Redmond over the weekend, the Miami Marlins have decided to hire within to fill the position. That's something MLB teams often do, but the Marlins did it in a way that only the Marlins could do it. They've hired their general manager to serve as their field manager. Dan Jennings, who was named Miami's GM before the 2014 season and...
The Miami Marlins were nearly no-hit by Atlanta Braves starter Shelby Miller on Sunday. Immediately after the game, Miami's brass announced that manager Mike Redmond and bench coach Rob Leary were relieved of their duties. The #Marlins dismiss manager Mike Redmond and bench coach Rob Leary. — Miami Marlins (@Marlins) May 17, 2015 In announcing the firings, Marlins president of...
Your browser does not support iframes. The Miami Marlins got screwed out of a win against the Cincinnati Reds on Thursday night because of a new rule. As you know, Major League Baseball has banned home plate collisions in order to improve player safety. The new rules also prevent catchers from blocking the plate, otherwise […]
NAME TAGS MIGHT HELP
Mike Redmond will make his MLB managing debut with the Miami Marlins in 2013, so it would be understandable if the casual fan has never heard of him. The former catcher spent 13 seasons in the majors and won a World Series with the Marlins in 2003, but that was before Miami prospect Jose Fernandez's time. Fernandez, the top pitching prospect in the Marlins system according to Baseball...
MORE STORIES >>
MLB News

Delivered to your inbox

You'll also receive Yardbarker's daily Top 10, featuring the best sports stories from around the web. Customize your newsletter to get articles on your favorite sports and teams. And the best part? It's free!