We've updated our Privacy Policy.
By continuing to use this site, you are agreeing to the new Privacy Policy.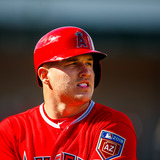 Only one goal comes to mind for star players during spring training. They need to stay healthy. But for Mike Trout and the Los Angeles Angels, Sunday would provide a bit of a scare. But take a breath, Angels fans. Trout is okay, according to manager Mike Scioscia."The Angels did not call for a trainer to examine him before he left the game."Despite playing in just 114 games, he would...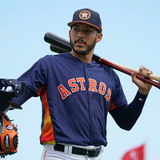 The Astros have renewed the contract of star shortstop Carlos Correa at $1M, reports FanRag's Jon Heyman (Twitter link). That comes in just shy of the record for a pre-arbitration player, set by Kris Bryant last offseason when the Cubs agreed to a $1.05M salary. Correa's $1M mark ties the previous record holder, Mike Trout, who earned $1M in 2014 as a pre-arb player before agreeing...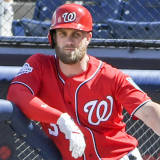 While shortstop currently houses the most impressive collection of talent in Major League Baseball, the outfield position is powerfully impressive in its own right.From the precocious power of Aaron Judge to the MVP trio of Mike Trout, Bryce Harper and Giancarlo Stanton, to the all-around brilliance of Charlie Blackmon, George Springer, Mookie Betts and many more, the outfield is...
LIKE WHAT YOU SEE?
GET THE DAILY NEWSLETTER: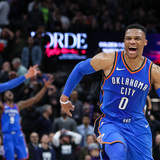 Real recognizes real, especially when it comes to a fellow league MVP.Oklahoma City Thunder star Russell Westbrook went nuts in a 124-116 win over the Phoenix Suns on Friday, finishing with 43 points, 14 rebounds, and eight assists. Included in that was a clutch triple in the final minute that put the Thunder up for good. Westbrook's shot also impressed Mike Trout, who is in town...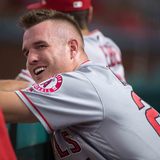 The Los Angeles Angels have had an interesting offseason, but landing Shohei Ohtani probably takes the cake. Adding both Zack Cozart and Ian Kinsler counts for a lot. But with the Angels, it's always going to come back to Mike Trout–the best player in baseball. Right now, Trout is under contract through the 2020 season. But after that, he'll hit free agency at 28 years old. That...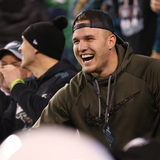 Tom Brady is arguably the most clutch player in the history of professional sports, and his fourth quarter performances in the Patriots' last two Super Bowl wins were two of the best of his Hall of Fame career. This time around, MLB superstar Mike Trout expects things to be different.Trout, a lifelong Eagles fan who grew up in New Jersey, has a bold prediction for the Super Bowl...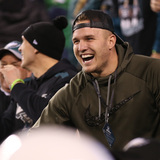 The Philadelphia Eagles will upset the New England Patriots in Super Bowl LII. That's at least the opinion of Los Angeles Angels centerfielder Mike Trout, a New Jersey native and noted Philadelphia sports fan.The two-time American League MVP went a little beyond just predicting a win. He actually gave a score and even noted how the game will be sealed. Well, we can't say that Trout...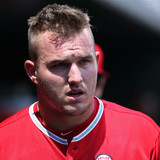 It is no secret that Mike Trout is a Philadelphia Eagles super-fan, and he proved his credentials again at the NFC Championship on Sunday.The Eagles and their fans, inspired by Lane Johnson, have been embracing dog masks during the week in response to the fact that they were underdogs against the Atlanta Falcons despite being the NFC's No. 1 seed. The Eagles were underdogs against...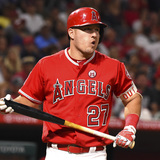 Mike Trout, a self-described "weather geek" who has not hidden his arguably nerdy fascination with meteorology in the past, is now on the outs with his wife, albeit in a joking manner. Why? Because of his apparently annoying infatuation with a storm currently wreaking havoc upon the Northeastern United States.Let's just say it certainly sounds as if Trout's wife is running out of...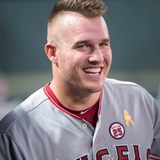 Last weekend was a big weekend for Mike Trout, and not just because his Angels landed Shohei Ohtani. No, it was much bigger than that.The two-time AL MVP got married to his longtime girlfriend Jessica on Saturday. The Millville, N.J. native shared a gorgeous photo from his wedding on social media Tuesday: From the starry sky in the background to the snow in the foreground, you can...
MORE STORIES >>
Angels News

Delivered to your inbox

You'll also receive Yardbarker's daily Top 10, featuring the best sports stories from around the web. Customize your newsletter to get articles on your favorite sports and teams. And the best part? It's free!