We've updated our Privacy Policy.
By continuing to use this site, you are agreeing to the new Privacy Policy.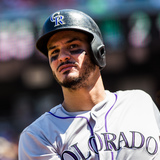 The state of affairs at the hot corner headed into 2018 is a star-studded one. It is a collective of talents that features a pair of MVP winners over the past handful of years, a newly crowned postseason hero and the newest member of the 3,000 hit club.As if that was not enough seasoning, there is also the presence of an all-time franchise great moving into a new scene, an All-Star...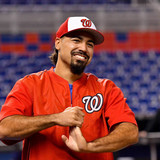 The Nationals have agreed to a 2018 contract with third baseman Anthony Rendon, the team announced. He's set to earn $12.3MM, according to Chelsea Janes of the Washington Post (via Twitter).It's little surprise to see Rendon cash in a big raise in his third arbitration campaign. After earning $2.8MM as a Super Two and $5.8MM in 2017, he had a strong base to work with. On the heels...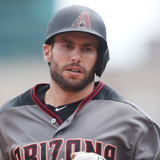 When Bryce Harper fell on the rain-soaked bases of Nationals Park late in a game against the San Francisco Giants, it did more than just put a streak of collective terror through the nation's capital. It instantly changed the entire National League MVP picture.While Harper has been out of action for nearly a month, his mark on the NL season is still tough to miss. In addition to...
LIKE WHAT YOU SEE?
GET THE DAILY NEWSLETTER: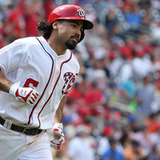 Washington Nationals third baseman Anthony Rendon entered Sunday's game against the New York Mets with just five RBI on the season. By the end of the day, he had tripled that total by becoming the 13th man in MLB history with 10-plus RBI in a single game. Aided in part by three home runs, which accounted for four of his 10 RBI, Rendon went a perfect 6-for-6 from the batter's box...
And so, Anthony Rendon talked with Johnny Holliday and Ray Knight after going 3-5 with a double, HR, and 4 RBI in Saturday night's 11-0 beat-down of the Phillies, and clarified what happened with that yawn in the batters box last week in Miami: Tony: "I try not to get to anxious out there, try to take deep breaths. Everyone's already talking about me yawning the other day in...
Anthony Rendon tried to tell us that baseball is boring to him. Did we listen? After tonight it's simple, baseball must be boring (at least to Rendon) That's right, that's a yawn. In a one-run game in the eighth inning with a full count, Rendon couldn't contain his boredom even while in the batter's box. His yawn comes nearly two weeks after he called baseball "boring." "I don't...
It's the Battle of the Beltways. And so, an Orioles fan (who sort of looked like like Brady Anderson, as noted by MASN's F.P. Santangelo) threw back Anthony Rendon's game-tying home run ball in the sixth inning Monday night at Nationals Park. Lots of orange and black at Nats Park this evening...  
There it is, as seen on TV Saturday night, covered in a bandage. The good news is: X-rays were negative, and Anthony Rendon's left thumb is still attached: "It didn't fracture. That's the biggest thing."(Anthony Rendon, via Nationals Journal, 6/7/2014) Rendon sat out Saturday night, and likely will on Sunday. The Nats are calling it day-to-day, which, given their track...
We all know Robinson Cano is statistically the best second basemen in the MLB, what we do not know however, is whether or not he is going to be worth the large sum of cash he is going to be paid this offseason. When throwing out possible landing spots for Cano, the Washington Nationals are a team that has often been mentioned as a potential suitor. Experts know that Washington wants...
In our first installment of "Get to know Anthony Rendon before he gets sent back to Harrisburg when Zim gets back even if he's hitting .900", we focused on how Rendon talks fast in postgame interviews, and that Jayson Werth made him carry his bag. Tonight, something else we didn't know about Rendon until a clip on Nats Xtra on MASN before Tuesday night's Nats-Cards game: Anthony...
MORE STORIES >>
Nationals News

Delivered to your inbox

You'll also receive Yardbarker's daily Top 10, featuring the best sports stories from around the web. Customize your newsletter to get articles on your favorite sports and teams. And the best part? It's free!