We've updated our Privacy Policy.
By continuing to use this site, you are agreeing to the new Privacy Policy.
A deeper look at the projections and how they inform our expectations. In his rookie year, Mitch Haniger suffered through an up and down and up season. He suffered three major injuries, a strained oblique, a bruised finger, and a nasal fracture, which sidelined him for over a third of the season. Through it all, he still managed to capture our attention with a 129 wRC+, including...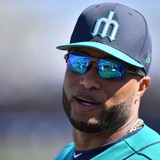 The latest updates on some injury situations around the game… Minor left hamstring tightness forced Robinson Cano out during the second inning of today's Mariners/Reds game, and the second baseman will receive an MRI tomorrow.  Cano told reporters (including the Seattle Times' Ryan Divish) that he doesn't believe the injury is serious, comparing it a hamstring issue from last season...
With 710 ESPN Seattle's Brock and Salk in Arizona this week for Mariners spring training, Mike Salk checks in with some observations. • Dee Gordon glides in the outfield. It was fun watching him. He plays out there with a little flourish, some swag. He has an outfielder's body and everyone has been really impressed with his attitude and personality. He also has a cannon for an arm...
LIKE WHAT YOU SEE?
GET THE DAILY NEWSLETTER:
Happy Hump Day M's fans! There were lots of Mariners updates yesterday, and it appears (knock on wood) that their luck may be regressing to the mean a bit, as it was almost exclusively good news! In Mariners News... Mitch Haniger is back to swinging the bat, and took BP yesterday.Before the Mariners officially announced the signing of Ichiro, Japanese media outlets were prepped...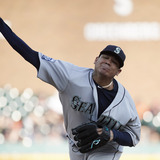 If the Seattle Mariners are going to turn things around in the early going this season, they'll have to do it without two of their top players.The Mariners announced on Friday that pitcher Felix Hernandez and outfielder Mitch Haniger are expected to miss 3-4 weeks with injuries: Haniger was one of the hottest hitters to start the season but strained his oblique during an at-bat against...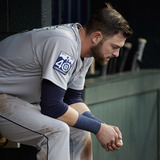 Mariners breakout star Mitch Haniger encountered some bad luck on Tuesday.The Seattle outfielder suffered a strained oblique during his team's game against the Detroit Tigers. He appeared to hurt himself on a swing that produced a single in the third, as he was lifted for a pinch runner.Haniger had been one of the most productive players in baseball prior to his injury. He was 2...
So far, Mitch Haniger has been one of the best hitters in baseball. He's not alone — Freddie Freeman has also been one of the best hitters in baseball. Eric Thames and Francisco Lindor and Khris Davis have been some of the best hitters in baseball. By definition, we're talking in pluralities, but Haniger is one of a small group, and I would like to write about him. This is what that...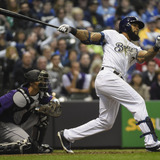 There are some pretty standard names if you look near the top of the MLB statistical leaderboards two weeks into the season. Bryce Harper, Ryan Braun, Francisco Lindor, and Freddie Freeman are all pretty big stars who have gotten off to good starts.However, there are a few other names on that list who, at first glance, don't seem to belong in the same category as those star players...
PEORIA, Ariz. (AP) Some people viewed young outfielder Mitch Haniger as a throw-in prospect in the offseason deal that got the Seattle Mariners top-notch shortstop Jean Segura. The Mariners certainly never felt that way about Haniger, even though he has played in only 34 major league games. Not only did Seattle want Segura in its lineup, general manager Jerry Dipoto and manager...
Mitch Haniger had an outstanding first professional season. The Milwaukee Brewers outfield prospect banged out 52 extra-base hits between two levels. That number is even more impressive given that two-thirds of his at bats came in the pitcher-friendly Florida State League. Overall, the 23-year-old [as of December] hit .264/.348/.431. Originally drafted in 2009 by the […]
MORE STORIES >>
Mariners News

Delivered to your inbox

You'll also receive Yardbarker's daily Top 10, featuring the best sports stories from around the web. Customize your newsletter to get articles on your favorite sports and teams. And the best part? It's free!