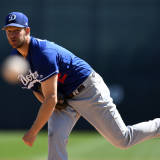 There continues to be hope that the top pitcher in the game, left-hander Clayton Kershaw, will remain with the Dodgers beyond the upcoming season. Kershaw, who could opt out of the final two years and $65MM on his contract next winter, said last week that he and Dodgers management are "on the same page." Then, on Saturday, Dodgers owner Mark Walter told Jon Heyman of FanRag that...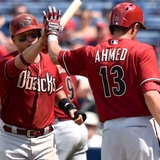 PHOENIX -- Nick Ahmed had two singles and a home run in the Diamondbacks' 7-4 exhibition victory over the Kansas City Royals on Friday night, during which All-Star center fielder A.J. Pollock re-injured his right elbow.Kendrys Morales homered and Alcides Escobar tripled for the reigning World Series champion Royals, who play a pair of exhibitions against Arizona before opening their...
Diamondbacks rookie shortstop Nick Ahmed never hit more than six home runs in any of his four seasons in the minors. He already has six for the D-backs this season. The lanky 6'2" 25-year-old credits better hitting for his power. Per MLB.com, he said:"I feel like that's a byproduct of what's happening. I'm starting to learn myself as a hitter a little bit more."Half of his homers...
Arizona Diamondbacks' Welington Castillo, right, gets a high-five from Nick Ahmed (13) after Castillo scored a run against the Los Angeles Dodgers during the eighth inning of a baseball game Monday, June 29, 2015, in Phoenix. (AP Photo/Ross D. Franklin) In the absence of outfielder Ender Inciarte at the top of the Arizona Diamondbacks lineup, manager Chip Hale called an audible...
PHOENIX, AZ – JUNE 02: Nick Ahmed #13 of the Arizona Diamondbacks forces out Jace Peterson #8 of the Atlanta Braves at second base during the seventh inning at Chase Field on June 2, 2015 in Phoenix, Arizona. (Photo by Norm Hall/Getty Images) When people think of the Arizona Diamondbacks some of the first players that come to mind are first baseman Paul Goldschmidt or center fielder...
Arizona Diamondbacks' Nick Ahmed, lifted by teammates, celebrates with teammates after a walk-off RBI single against the Chicago Cubs after a baseball game, Friday, May 22, 2015, in Phoenix. The Diamondbacks won 5-4 in 13 innings. (AP Photo/Matt York) Saturday night was all about tying records for the Arizona Diamondbacks as they edged passed the Chicago Cubs 5-4 in 13, for their...
The Arizona Diamondbacks are in a situation that nobody envies. They are one of the worst teams in the major leagues with very few desirable trade assets. Fortunately there is one position where the Diamondbacks have a surplus of trade assets. They have three young shortstops that scouts have been drooling over. Two of them, Didi Gregorious and Chris Owings, have a major league resume...
Each weekday during the minor-league season, FanGraphs is providing a status update on multiple rookie-eligible players. Note that Age denotes the relevant prospect's baseball age (i.e. as of July 1st of the current year); Top-15, the prospect's place on Marc Hulet's preseason organizational list; and Top-100, that same prospect's rank on Hulet's overall top-100 list. ***Nick Ahmed...
(Cheryl Evans/azcentral sports)Sunday was a big day for MLB debuts. The Red Sox initiated Mookie Betts, and East Longmeadow, Mass. native Nick Ahmed did the same for the Arizona Diamondbacks. Ahmed—out of UConn—started at shortstop for Arizona and got his first major league hit in a 2-1 loss to the Padres. Ahmed was acquired from the Braves in the Justin Upton deal. When starting...
MORE STORIES >>
Diamondbacks News

Delivered to your inbox

You'll also receive Yardbarker's daily Top 10, featuring the best sports stories from around the web. Customize your newsletter to get articles on your favorite sports and teams. And the best part? It's free!