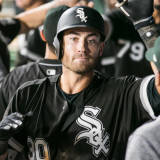 Nicky Delmonico appears to have had quite the journey to the big leagues.A Tuesday feature by The Chicago Tribune's David Haugh revealed that the White Sox rookie overcame an Adderall addiction on his way to the MLB.The story shares details of how Delmonico, who was prescribed the attention-deficit disorder drug in high school, almost quit baseball after his addiction drew him a...
The Baltimore Orioles have acquired reliever Francisco Rodriguez from the Milwaukee Brewers for minor league infielder Nick Delmonico. The Orioles cleared space for Rodriguez on the 40-man roster Tuesday by transferring outfielder Nolan Reimold to the 60-day disabled list before their game against the Kansas City Royals. Rodriguez was one of the game's best relievers during his...
MORE STORIES >>
White Sox News

Delivered to your inbox

You'll also receive Yardbarker's daily Top 10, featuring the best sports stories from around the web. Customize your newsletter to get articles on your favorite sports and teams. And the best part? It's free!