SNY's Baseball Night in New York crew discusses Omar Minaya's return to the New York Mets front office, and how they see him impacting the team's future.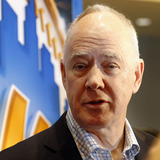 The Mets announced Friday that they've named Omar Minaya a special assistant to general manager Sandy Alderson. Minaya, of course, served as the Mets' GM himself from 2004-10 before being replaced in that role by Alderson."Omar has a long history with the Mets," said Alderson in a statement announcing the move. "He has served the club well in many different areas. Omar will be a...
Former Mets general manager Omar Minaya, spoke to Kristie Ackert of the Daily News in Cincinnati, after she spotted him chatting with All-Star Jacob deGrom. "I just told him good luck," Minaya said, "and that we're proud of you." Minaya said deGrom's athleticism was why they thought he'd progress quickly as a pitcher. Minaya, who drafted deGrom, said he was "not surprised" at him...
In 2006 we had the called third strike then in 2007 it was the collapse. The following year was the MVP chants for Carlos Delgado but only another frustrating September. In 2009 it was a great first five weeks and then every player on the team landed on the disabled list. But what do you remember about 2010? Yes, the team had more than an average share of injuries but it didn...
Erik Boland of Newsday is reporting that the New York Yankees are considering adding former Mets general manager Omar Minaya in a high ranking front office capacity. According to Boland, Yankees GM Brian Cashman is very close with Minaya who is currently serving as the senior vice president of baseball operations for the San Diego Padres. It's not clear what role Minaya would fill...
I met Omar Minaya once. We encountered each other on the elevator at Shea Stadium before the Mets' game against the Seattle Mariners on June 25th, 2008. The entire event comprised probably less than two minutes but in that short span of time, I still managed to unnerve him. Here's the story: On June 17, 2008, Minaya and Tony Bernazard fired Willie Randolph and several coaches...
Pretty much every Mets fan will agree that Omar Minaya failed as the Mets' GM in trying to make the squad into a perennial winning team. Some of the problems weren't his fault; regardless, he failed as General Manager. Minaya had many plans internally with prospects which were supposed to work out but most of them didn't. Now let's take a look at what the 2014 lineup might look like...
Omar Minaya will be joining the Padres front office reports SI.com.  Rumors swirled about Minaya joining the Padres front office before Thanksgiving, but quieted down quickly.  SI.com is reporting that Minaya will become a Vice President: "Minaya was discussing a job with new Padres general manager Josh Byrnes that will give him a title along the lines of vice president of baseball...
In November, Andy Martino wrote this article for the Daily News, saying that Omar had received a job offer from Arizona and will discuss a potential opening with Alderson. About six weeks ago, Ian Begley wrote this, quoting Fred Wilpon as saying he personally wishes Minaya return to the organization in an advisory or scouting role, possibly in the international department. But that...
MORE STORIES >>
MLB News

Delivered to your inbox

You'll also receive Yardbarker's daily Top 10, featuring the best sports stories from around the web. Customize your newsletter to get articles on your favorite sports and teams. And the best part? It's free!