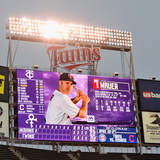 The Minnesota Twins organization on Monday held "A Special Tribute to Prince" at Target Field throughout Monday's game against the Cleveland Indians. Tonight we will pay tribute to the late Minnesota icon, Prince. Fans, wear your purple! https://t.co/4HfJo52CnF pic.twitter.com/XlPFMmTl9f — Minnesota Twins (@Twins) April 25, 2016 Rest in Purple, #Prince. pic.twitter.com...
Prior to Sunday I had never heard of Minnesota Twins outfielder Oswaldo Arcia. Chances are I am not the only one since he's only played in 59 games this season and is hitting just .230. However, after hitting a 486-foot monster of a home run against the Chicago White Sox I bet I'm not the only one that knows his name now. Loading...
Much like the rest of his Minnesota Twins teammates save for a few players having decent seasons, outfielder Oswaldo Arcia is having a season to forget. After starting off the season on a relatively torrid pace for an inexperienced player, a sprained ankle in early June appeared to derail the 23-year-old's season, an injury from […] The post Oswaldo Arcia shatters bat amid a shower...
Being a resident of the fine State of Minnesota, I have had front row seats to the sad demise of the Minnesota Twins as a functional, competitive major league team. Perhaps front row seats isn't the appropriate terminology, as I'd have to be loony to pay the exorbitant prices to watch such a sub-par product [...]The post Twins outfielder Oswaldo Arcia gets hit in face by ball after...
MORE STORIES >>
Diamondbacks News

Delivered to your inbox

You'll also receive Yardbarker's daily Top 10, featuring the best sports stories from around the web. Customize your newsletter to get articles on your favorite sports and teams. And the best part? It's free!