We've updated our Privacy Policy.
By continuing to use this site, you are agreeing to the new Privacy Policy.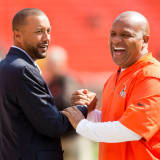 On Thursday, the Browns sacked top decision maker Sashi Brown with four games to go in the season. In his farewell address to Browns fans, Brown took the high road and also took ownership of the team's poor performance:  "I want this to be real and clear, the way I know Cleveland and Browns fans can appreciate: Our win-loss record since I became executive vice president isn't going...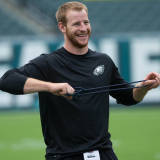 For the Philadelphia Eagles, everything was so different just a week ago.It has been a tumultuous summer for the team in regards to sorting out would be the lead signal caller when week one of the 2016 season came around, and beyond. The position has been completely overhauled since the close of business for the 2015 season, which saw the Eagles limp to an awkward 7-9 record, which...
Following Paul DePodesta's departure, John Harper of the NY Post says that Tommy Tanous will likely take over his role as the head of player development. Tanous originally joined the organization as a professional scout in 2010, and he was named the Director of Amateur Scouting the following year. This decision seems to make the most sense as he was heavily involved in the draft...
LIKE WHAT YOU SEE?
GET THE DAILY NEWSLETTER:
"Paul completely reorganized the Mets; scouting and player-development functions and had an extraordinary impact in both areas, but he was also very directly involved in our trade and free-agent acquisitions," Mets GM Sandy Alderson said. "His commitment to excellence and his passion for innovation will be missed by the Mets and all of baseball. I wish him well with the Browns....
Adam Rubin of ESPN NY writes that Mets VP Paul DePodesta and amateur scouting director Tommy Tanous addressed their Day 2 draft picks on Friday. Here's what they had to say … Milton Ramos, SS, American Heritage (Fla.) HS., third round: "Certainly he's known for defense. He's a lot stronger than people think. This is now a below-average bat by any means. I think sometimes when you...
Update by Matt M., 8/29: Adam Rubin of ESPN New York shed some light on the undisclosed injury deGrom suffered last night in his abbreviated start in Colorado Springs. Paul DePodesta answered the concern with the below text message: He mentioned that he felt a little stiff, and we didn't want to take any risks. He said he was feeling fine before the game was even over. So, for the...
In a conference call this afternoon, Mets VP of player development Paul DePodesta characterized the first two days of the 2013 MLB Draft as very productive, adding that he was "thrilled with the way everything has turned out." DePodesta said the Mets have had more moments of jubilation, when players they wanted fell to them, than those where they missed getting the players they wanted...
Mets Vice President of Amateur Scouting & Player Development, Paul DePodesta, was a guest this evening on MLB Network's Clubhouse Confidential with host Brian Kenny. Among the topics discussed were his thoughts on the book and movie Moneyball, how he broke into the baseball business, his philosophy on advanced metrics and what him and the rest of the Mets front office hope to...
MORE STORIES >>
MLB News

Delivered to your inbox

You'll also receive Yardbarker's daily Top 10, featuring the best sports stories from around the web. Customize your newsletter to get articles on your favorite sports and teams. And the best part? It's free!