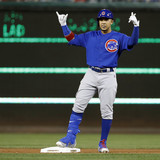 The Twins' recently reported two-year offer to Lance Lynn was for a total of $20MM, reports Mike Berardino of the St. Paul Pioneer Press. Lynn's camp considered that number a "non-starter," however, according to Berardino. Minnesota remains open to adding a starter on an affordable and relatively short-term pact, Berardino continues, noting that outside of the team's $100MM+ offer...
With last year's setup men of Ryan Buchter, Joakim Soria and Scott Alexander having been traded, the Royals will be searching for late-inning replacements this camp to take their spots.
They took on Moss' dead money but still spent less than they would have in free agency. The Oakland A's spent most of this offseason trying to add a left-handed reliever. They couldn't find the deal they wanted in free agency, so instead they got creative with a trade. On Monday, they acquired their man in Ryan Buchter, and in exchange it cost them three things — they sent over pitchers...
According to press releases from both teams, the Oakland Athletics have acquired first baseman Brandon Moss and relief pitcher Ryan Buchter from the Kansas City Royals. In return, the Royals have acquired pitchers Jesse Hahn and Heath Fillmyer. The move marks a return to Oakland for Moss, who spent three seasons with the club from 2012-2014. Moss hit a combined .254 with 76 home...
Dealing from an area of surplus, the A's sent right-handers Jesse Hahn and Heath Fillmyer to the Royals on Monday evening to acquire Moss and southpaw Ryan Buchter, thus completing their offseason to-do list.
In exchange for RHPs Jesse Hahn and Heath Fillmyer. The stove is hot once more! The Oakland A's made a trade on Monday, acquiring LHP Ryan Buchter and DH Brandon Moss from the Royals, the team announced. In exchange, Kansas City will receive pitchers Jesse Hahn and Heath Fillmyer. The A's found their left-handed reliever, via trade rather than free agency. Buchter had a pretty fantastic...
The Royals and Athletics have agreed to a four-player swap. Left-hander Ryan Buchter and first base/DH-type Brandon Moss will head to Oakland in the deal, while right-hander Jesse Hahn and minor-league righty Heath Fillmyer are ticketed for Kansas City. The Royals also included $3.25MM in cash as part of the deal. Jeffrey Flanagan of MLB.com was first with the news.  
Making his major league debut in 2014 at the age of 27, Ryan Buchter has always been a bit of a late bloomer. After spending the 2015 season in the minor leagues, Buchter impressed with his breakout 2016 season out of the bullpen in San Diego. Acquired in a six-player trade from the...
Attempts to measure and/or quantify command have proven elusive. It's a different thing than contol, almost certainly, and it likely isn't fully represented by control-oriend metrics such as walk rate or zone rate or first-pitch strike rate. Command is informed not merely by a pitcher's capacity to throw strikes but rather by his body's ability to execute the pitch his mind — and...
Padres reliever Ryan Buchter has been around — playing for five organizations since 2008 — which really only means that teams haven't agreed on his value. For every team that's passed on the left-hander, another onehas seen something. That's the life of a reliever, sure, but this one is doing well right now, and took a while to find his way to San Diego. The lefty is well aware...
MORE STORIES >>
MLB News

Delivered to your inbox

You'll also receive Yardbarker's daily Top 10, featuring the best sports stories from around the web. Customize your newsletter to get articles on your favorite sports and teams. And the best part? It's free!