Kalish & A Fan (FN Photo)Ryan Kalish was once the Red Sox right-fielder of the future. Then, a cascade of injuries short-circuited his promising career. The most severe of these was cervical fusion surgery—just eight months ago. And yet, Kalish is on the verge of winning a roster spot on Theo Epstein's 2014 Cubbies. He's hitting .300 this Spring and things are looking up. Most...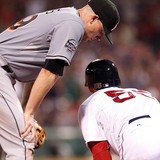 Ryan Kalish With A Young Red Sox FanRyan Kalish was once considered the next 'can't miss' outfield prospect in the Red Sox organization. He and Josh Reddick were pegged to be fixtures at Fenway for years to come. Well, Reddick is now in Oakland and, today, the 25-year old Kalish is facing his fifth surgery in less than two years. In an L.A. hospital, Kalish will undergo "cervical...
As Ryan Kalish's recovery timeline continues to develop it's been reported that the Sox outfielder will need five to six months to recover from his arthroscopy and posterior labrum repair - this coming from source at WEEI.com in Boston. If the timetable is correct then that puts Kalish back on track for a June return to the Sox lineup. For Kalish a return to the Red Sox roster...
Red Sox outfielder Ryan Kalish will most likely be searching for a good luck charm, rabbit's foot or anything else that might spare him continued agony. The injury prone outfielder was recovering from surgery which repaired a torn labrum in his left shoulder when he hit another setback.  According to sources Kalish will undergo another surgery sometime next week. This time it...
Red Sox outfielder Ryan Kalish on Wednesday threw for the first time this spring. Kalish, who had offseason surgeries on his neck and left shoulder that will leave him unavailable until June, made about 30 throws from about 45 feet, as the recovery process continues. ''It was great. It felt good,'' Kalish said. ''My shoulder is still surgically repaired, I'm still getting used...
MORE STORIES >>
Blue Jays News

Delivered to your inbox

You'll also receive Yardbarker's daily Top 10, featuring the best sports stories from around the web. Customize your newsletter to get articles on your favorite sports and teams. And the best part? It's free!