We've updated our Privacy Policy.
By continuing to use this site, you are agreeing to the new Privacy Policy.
According to Mike Beradino of the Pioneer Press, the Minnesota Twins have released pitcher Ryan Vogelsong. Beradino also tweeted Twins Manager Paul Molitor "stressed how generous Vogelsong was in camp with younger players and was behind several others in the rotation battle." He also added Vogelsong's velocity "lagged."Vogelsong has 12 major league seasons under his belt which include...
BRADENTON, Fla. -- Ryan Vogelsong isn't ready to be over the hill. He's still having fun on top of it. Vogelsong is in spring training with the Minnesota Twins on a minor league contract, about four months before his 40th birthday but plenty confident he can win a spot on the staff for the season. "I still think I can get big league guys out consistently and help a team win, so that...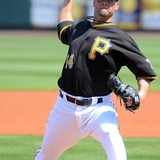 Earlier this season, Ryan Vogelsong was hit in the face by a pitch from Jordan Lyles. On Thursday, he explained why he's still upset with the Rockies pitcher. On May 23, Vogelsong suffered multiple facial fractures as a result of a 92 mph offering from Lyles hitting him in cheek. While Vogelsong (who is a pitcher himself) forgives Lyles for the incident itself, he's discussed why...
LIKE WHAT YOU SEE?
GET THE DAILY NEWSLETTER: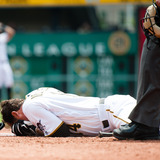 Pittsburgh Pirates pitcher Ryan Vogelsong left Monday's game against the Colorado Rockies in the second inning after being hit in the face by a pitch. Vogelsong was batting with the bases loaded and one out in the second inning when Rockies right-hander Jordan Lyles appeared to strike him in the face with a 92-mph fastball. Vogelsong fell immediately in the batter's box, where head...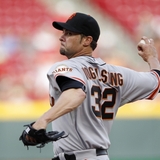 BRADENTON, Fla. (AP) Ryan Vogelsong is hoping his second stint with the Pittsburgh Pirates ends better than the first. The 38-year-old pitcher appeared in 103 games for the Pirates between 2001 and 2006, going just 10-19 with a 6.00 ERA. Vogelsong regained his form with the San Francisco Giants, helping the team to a World Series title in 2012. Vogelsong finished 2015 coming out...
PITTSBURGH (AP) Ryan Vogelsong is guaranteed $2 million in his one-year contract with the Pittsburgh Pirates and can earn $3.1 million more in performance bonuses. Vogelsong would receive $100,000 each for 10, 12 and 14 starts under Friday's agreement and can earn $2.8 million under a points system that calls for three points for each start, two for each relief appearance of two...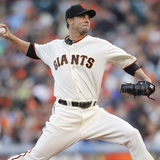 PITTSBURGH (AP) Ryan Vogelsong is returning to the Pittsburgh Pirates for the first time in a decade. The 38-year-old right-hander agreed to a one-year contract, the Pirates said Friday, rejoining the team he pitched for from 2001-6. Vogelsong helped the Giants win World Series titles in 2012 and `14, then was 9-11 with a 4.67 ERA this year in 22 starts and 11 relief appearances...
"I was always pitching to a smaller strike zone," Ryan Vogelsong said of his time in Nippon Professional Baseball. "That's just the way it is, it's the unwritten rule of baseball there, the foreigner's strike zone is going to be smaller." Vogelsong is not alone — other returnees from Japan report unfair treatment from umpires […]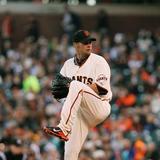 According to Aaron Gleeman of NBC Sports, free agent starting pitcher Ryan Vogelsong and the San Fransisco Giants have agreed to a one-year deal. Vogelsong had been reportedly close to a deal with the Houston Astros in recent days, but ultimately decided to re-sign with the team he's been with since 2011. Last season, Vogelsong went 8-13 with a 4.00 ERA in 184.2 innings while striking...
Take a look at Ryan Vogelsong's career fastball velocity from Brooks Baseball: So, yeah, he always gets a velocity boost when October rolls around. When I asked him about it, he mentioned making some "adjustments mechanically" that helped him this time around. But he admitted: "At the same time, there's adrenaline, no question… It's going […]
MORE STORIES >>
Twins News

Delivered to your inbox

You'll also receive Yardbarker's daily Top 10, featuring the best sports stories from around the web. Customize your newsletter to get articles on your favorite sports and teams. And the best part? It's free!