Nationals General Manager Mike Rizzo talked to MLB Network Radio hosts Eduardo Perez and Steve Phillips this weekend about handling the expectations for the 2018 Nats... Dave Martinezs unique idea to help his new team deal with the expectations for the 2018 season was to bring actual camels to the Washington Nationals Spring Training facility in an attempt to help the organization...
The MLB/SiruisXM Radio crew was at Disney today talking to the Braves.  There were a few nuggets of interest. XM's Eduardo Perez and Steve Phillips (a former player and former Mets GM, respectively) were at the Atlanta Braves camp this morning conducting interviews with several players...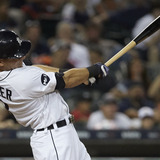 Detroit Tigers second baseman Ian Kinsler recently suggested that Angel Hernandez may be in the wrong line of work. Former MLB GM Steve Phillips didn't care for Kinsler's comments and said so during a long monologue on MLB Network Radio. While he acknowledged that Hernandez is not a good umpire, he was clear that Kinsler and players enjoy a double standard."An umpire can't say that...
Today former Mets General Manager Steve Phillips discussed his decision to acquire Mike Piazza in a blockbuster trade with the Florida Marlins on MLB Network Radio (Metsblog). He explained that the best trade is often the one that you don't make. "Back in 1997, 1998, we had a good little team with the Mets, but we knew we needed some star power," he explained, telling a story from...
YOU LIKE-A THE JUICE?
There are many ways to look at the steroid era in baseball. For most, it is an embarrassment — cheating in every sense of the term. Most fans feel like they were cheated for more than a decade. What Mark McGwire, Sammy Sosa, and Barry Bonds were able to do is no longer reality. It [...]
Check out the following AOL Fanhouse video clip featuring former Mets GM Steve Phillips who defends the Wilpons from most of the fire they are getting from the rest of the media. Phillips makes some great points, and knows the Wilpons better than 99% of the people who are casting aspersions and making false allegations against them. For some reason, too many in the media are rushing...
MORE STORIES >>
MLB News

Delivered to your inbox

You'll also receive Yardbarker's daily Top 10, featuring the best sports stories from around the web. Customize your newsletter to get articles on your favorite sports and teams. And the best part? It's free!