Nationals starter Tanner Roark gave up his first earned runs of the Spring in what ended up a 4-3 loss to the Cardinals in West Palm Beach, FL. Tanner Roark gave up his first earned runs of the Spring this afternoon in what ended up a 4-3 loss loss the St. Louis Cardinals in West Palm Beach, FLs FITTEAM Ballpark of the Palm Beaches. Washingtons Nationals rallied to tie it up at...
Tanner Roark tossed four scoreless against the St. Louis Cardinals, who took a 2-1 decision from the Washington Nationals today in Jupiter, FLs Roger Dean Stadium. Tanner Roark tossed four scoreless innings on 47 pitches this afternoon in Jupiter, FLs Roger Dean Stadium, where the Washington Nationals dropped a 2-1 decision to the St. Louis Cardinals in Grapefruit League action....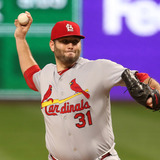 Jake Arrieta, Alex Cobb and Lance Lynn are still free agents. But their market is starting to heat up again, according to Jon Morosi. In fact, up to six teams – including the Brewers and Nationals – are monitoring their status. The Nationals are favorites to take the NL East again this season while the Brewers look to build on their surprise 86-win season. But losing the Yu Darvish...
When I talked to Tanner Roark back in 2014, he was in the middle of his breakout season and made sure to explain all the adjustments that led to that excellent year. But, even then, he gave us clues about his second act and what he might do in the future. And though the overall results have been uneven at times, it's that kind of forward-thinking that has kept him productive. If...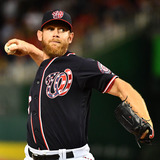 Stephen Strasburg was asked to start Wednesday's Game 4 of the NLDS for the Washington Nationals and declined, according to a report.Game 4 of the series was originally scheduled for Tuesday, with Washington's Tanner Roark set to face Chicago's Jake Arrieta. The Nationals are facing elimination down 2-1 in the series. The game was postponed until Wednesday because of the weather...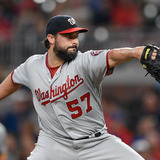 The Washington Nationals will not be using the game postponement to alter their pitching staff.Dusty Baker said on Tuesday that Tanner Roark will remain the team's Game 4 starter. MLB decided not to play Game 4 on Tuesday because of the weather, instead opting to move the game to Wednesday at 4 p.m. ET.The extra day between games would have allowed Game 1 starter Stephen Strasburg...
I have to admit to a bias. I've been aware of Tanner Roark since he entered the major leagues a few years ago, but my evaluation failed to evolve. In my head, Roark was still the guy he was when he made his first impression, as a strike-throwing and hittable sort who seemed to pitch with the intent of beating his peripherals. It is my job to try to know as much as I can, and I concede...
Coming off of a disappointing 2015 spent shuttling between the bullpen and the starting rotation, it felt like Tanner Roark was the forgotten man in the Nationals' 2016 rotation. All Roark went on to do was post the sixth-lowest ERA in baseball among qualified starting pitchers. Not bad for a guy who throws in the low 90s and was never a top prospect. The obvious question to ask...
Washington Nationals General Manager Mike Rizzo spent most of the first month of camp wandering the Ballpark of the Palm Beaches in a USA Baseball hat, a departure from his usual "Harpers Heroes" model, or the less noticeable Nike type. Rizzo, never one to hide his feelings, has been far less vocal about whether the […]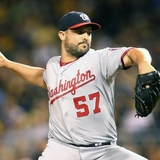 After losing Game 1of the National League Division Series at home Friday night, the Washington Nationals need Tanner Roark to help them take Game 2 more than ever. And he may be better equipped to do so now than at any point in his career. Eight of the nine Dodgers in the starting lineup in Game […]
MORE STORIES >>
Nationals News

Delivered to your inbox

You'll also receive Yardbarker's daily Top 10, featuring the best sports stories from around the web. Customize your newsletter to get articles on your favorite sports and teams. And the best part? It's free!