We've updated our Privacy Policy.
By continuing to use this site, you are agreeing to the new Privacy Policy.
Before Friday's game against the Yankees, the Orioles reinstated left-hander T.J. McFarland and designated right-hander Logan Ondrusek for assignment off the 25-man roster.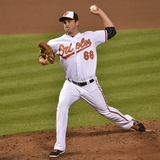 SAN DIEGO - The Orioles made their anticipated roster move this afternoon, recalling left-hander T.J. McFarland from Triple-A Norfolk. McFarland replaces left-hander Ashur Tolliver, who was optioned to Norfolk following Sunday's game. Tolliver will be going on paternity leave with his wife due on July 7 and the Orioles didn't ... Read More
T.J. McFarland hopes to make an immediate impact after being called back to the Orioles for the second game of the doubleheader.
LIKE WHAT YOU SEE?
GET THE DAILY NEWSLETTER: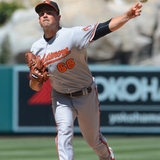 Left-hander T.J. McFarland has left Triple-A Norfolk and is headed to Baltimore. No word on whether he's going to be recalled tonight or a corresponding move, but I've got confirmation that he's joining the Orioles. McFarland was 0-1 with a 4.73 ERA in eight relief appearances with the Orioles. He ... Read More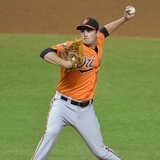 The Orioles are activating left-hander T.J. McFarland from Triple-A Norfolk's disabled list today and he's scheduled to pitch in relief because he needs the work. McFarland will be held back until the later innings in case the Orioles decide that they need him. Their bullpen is in better shape today, ... Read More
T.J. McFarland allowed just three hits in his relief appearance against the Royals.
T.J. McFarland allowed three earned runs in relief as the Orioles fell 8-4.
SARASOTA, Fla. - With five right-handers in the rotation following Yovani Gallardo's agreement on a three-year, $35 million contract, do the Orioles need left-hander T.J. McFarland to serve as the long man in their bullpen? McFarland isn't dwelling on it. He'll jump into the competition, but please remove him from ... Read More
For some reason (and, let's be honest…it's probably Will Ferrell's fault), Major League Baseball players love to imitate Harry Caray. Seriously, it's as if anyone with oversized black glasses thinks they have an open invitation to try and sound like the legendary Chicago Cubs broadcaster.  And, mostly, they come across as hackneyed copies of the impersonation the "Anchorman" star...
MORE STORIES >>
Diamondbacks News

Delivered to your inbox

You'll also receive Yardbarker's daily Top 10, featuring the best sports stories from around the web. Customize your newsletter to get articles on your favorite sports and teams. And the best part? It's free!