That's not a typo. We're definitely not running a fake news story here. Homer Simpson of The Simpsons fame will be inducted into the Baseball Hall of Fame in Cooperstown this upcoming Saturday.Again, this isn't a joke. It's a well-deserved honor for Mr. Simpson, who has shown for the past near three decades that he is an exceptional on-field talent. Here's a guy that can hit a baseball...
It will be difficult to determine short of the MLB great confirming it one way or another whether it was an intentional slight or not, but the fact that Wade Boggs wore the World Series ring he earned as a member of the New York Yankees to a ceremony at Fenway Park probably won't sit well with Red Sox Nation. Boggs, who played for the Boston Red Sox in the first 11 seasons of...
BOSTON -- Wade Boggs' number 26 will be retired by the Boston Red Sox. Boston said Monday it will retire the number of the Hall of Fame third baseman during a ceremony at Fenway Park on May 26, when the number will be added to the ballpark's right-field facade. "I am so humbled and honored," Boggs said in a statement released by the Red Sox. "To say that your number will never be...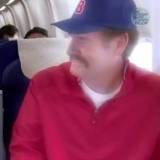 By Steve DelVecchio MLB Hall of Famer Wade Boggs inspired a scene that will air as part of the Season 10 premiere of "It's Always Sunny in Philadelphia." Apparently the former Boston Red Sox and New York Yankees legend is known as much for his beer-drinking ability as his hitting prowess. The scene, in which Boggs actually makes a cameo appearance, involves the show's characters...
After two years on the market, the Field of Dreams movie site has sold for $3.4 million. Former Red Sox, Yankees and Devil Rays third baseman Wade Boggs is part of the group that bought the property, according to CBS Sports. Boggs and Go the Distance Baseball LLC plan on turning the property into a 24-field baseball and softball complex called All-Star Ballpark Heaven. The finished...
SEATED YET SHIMMYING
Oh. My.If there is one lesson to be learned from Wade Boggs being captured by the Oklahoma City Thunder broadcast team Monday night, it's be careful what you do while on camera.  Except, well, it appears as though the Hall of Famer has no shame when it comes to his dancing prowess.Oh, lifetime .328 hitter apparently shook his groove thang (seriously?) well enough to lead the Thunder...
If you are in the business of believing people who admit that they are high on marijuana and possibly cocaine while doing an interview, you may now consider Wade Boggs to be a racist. During an interview with WEEI in Boston earlier this week to promote his new book, "They Call Me Oil Can," Oil Can Boyd called Boggs a bigot and said he used to use the n-word on a regular basis around...
MORE STORIES >>
MLB News

Delivered to your inbox

You'll also receive Yardbarker's daily Top 10, featuring the best sports stories from around the web. Customize your newsletter to get articles on your favorite sports and teams. And the best part? It's free!