We've updated our Privacy Policy.
By continuing to use this site, you are agreeing to the new Privacy Policy.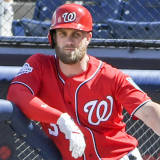 While shortstop currently houses the most impressive collection of talent in Major League Baseball, the outfield position is powerfully impressive in its own right.From the precocious power of Aaron Judge to the MVP trio of Mike Trout, Bryce Harper and Giancarlo Stanton, to the all-around brilliance of Charlie Blackmon, George Springer, Mookie Betts and many more, the outfield is...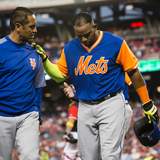 Things haven't gone well for the New York Mets this year on the injury front. Pitchers Matt Harvey, Noah Syndergaard and Zach Wheeler have all dealt with long-term injuries, third baseman David Wright hasn't played at all, and star outfielder Michael Conforto may be out for two years after an injury this week.Now, it's fellow outfielder Yoenis Cespedes's turn. He struggled getting...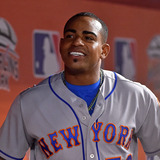 The Oakland Athletics are in Queens taking on the New York Mets. If Yoenis Cespedes gets his way, it will not be the last reunion with his former team.In an interview with Susan Slusser of the San Francisco Chronicle, Cespedes said that he wants to finish his career with the A's."I wish that happens," he said, per Slusser, referencing a conversation with another former Oakland player...
LIKE WHAT YOU SEE?
GET THE DAILY NEWSLETTER: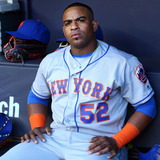 When you see the 19-year-old frame of Yoelkis Cespedes Maceo, you may have to do a double take, especially when the familiar shape of the eyebrows take to form. You may have heard of his older half-brother, two-time All-Star slugger Yoenis Cespedes.But Yoelkis is making a name for himself in Cuba according to Jesse Sanchez of MLB.com."The right-handed batter with the familiar stance...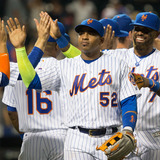 New York Mets outfielder Yoenis Cespedes has the opportunity to opt out of his contract after the season, and he seems to be sending the team mixed messages as to whether he will or not. According to Kristie Ackert of the New York Daily News, people within the Mets organization believe Cespedes will exercise the opt-out clause, though he's apparently said different things to different...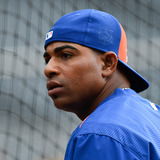 The New York Mets' offense has been mired in a prolonged slump. But Yoenis Cespedes, who is struggling at the plate himself, insists he alone cannot save the team from its hitting woes. "I'm not Superman," Cespedes said in Spanish after the Mets dropped Tuesday's doubleheader in a pair of 3-1 losses to the Pittsburgh Pirates at PNC Park, per NJ.com's Maria Guardado. The Mets...
Yoenis Cespedes seems to have found a home in New York. The Mets outfielder says he loves playing for the Mets, and he feels as though he could for a very long time. "It's like I said from when I got here last year, it feels very much at home here," Cespedes told Anthony DiComo of MLB.com. "It feels as if I've been playing here a very long time. And I could spend the rest of my...
The case can be made that Yoenis Cespedes was the biggest star of spring training this year, mostly due to his ritual of rolling into the New York Mets facilities driving a different high-priced, tricked-out vehicle for days on end. One of the rides that perhaps garnered the most attention was the flame-spitting 2013 Lamborghini Aventador that boasted nearly $80,000 in custom...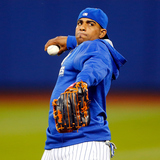 Yoenis Cespedes sent his newly-purchased award-winning hog to the butcher shortly after he bought it at a fair over the weekend, and now he is feeling the wrath of PETA. Shortly after word surfaced that Cespedes is planning to eat the pig he purchased, PETA — which stands for People for the Ethical Treatment of Animals — unloaded on him in a statement to The Big Lead. "Yoenis Cespedes...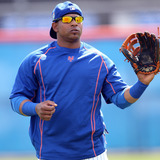 The week that was in New York Mets training camp was dominated by the attention surrounding what kind of costly, fancy and custom automobile Yoenis Cespedes would drive into the parking lot of the team's spring training facilities every day. There were of course plenty of other interesting stories, anecdotes and the like coming out of Tradition Field that actually concerned, you...
MORE STORIES >>
Mets News

Delivered to your inbox

You'll also receive Yardbarker's daily Top 10, featuring the best sports stories from around the web. Customize your newsletter to get articles on your favorite sports and teams. And the best part? It's free!