We've updated our Privacy Policy.
By continuing to use this site, you are agreeing to the new Privacy Policy.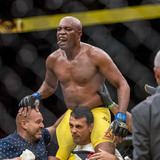 Come Feb. 9, Roy Jones Jr. will retire. But the UFC may not see the last of him after that. That is, only if one other man agrees. But not just any man. It would have to be the 42-year-old Anderson Silva."Of course (I would), because it's not a fight – it's an event. And events always interest me. It's a huge event that interests both of us."Yet despite Jones and Silva having mutual...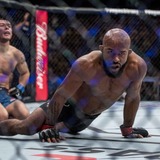 Demetrious Johnson destroyed Ray Borg at UFC 216 on Saturday night, and it's starting to look like he may never lose again.The flyweight champion set a record for number of title defenses (11), shattering Anderson Silva's previous mark.Johnson dominated every round, and was in control — literally — throughout the fight, as he was on top of Borg quite often.He finished Borg in the...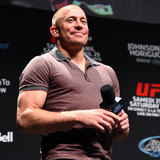 Georges St-Pierre is 35 years old, turns 36 in May, and hasn't stepped a competitive foot inside the Octagon since 2013. But that's not going to stop him from making a return to the UFC, and it's not going to stop him from making a very avoidable mistake.Following GSP's controversial split decision victory over Johny Hendricks two-plus years ago back in November 2013, UFC president...
LIKE WHAT YOU SEE?
GET THE DAILY NEWSLETTER:
Anderson Silva's mixed marital arts career is the stuff of legend. Silva's list of accomplishments includes being a one time Shooto Middleweight Champion, one time Cage Rage Middleweight Champion, the UFC Middleweight Champion, and the 2008 World MMA and Sports Illustrated Fighter of the Year, just to name a few. "The Spider" has been fighting professionally since 1997, and has secured...
UFC Fight Night 84 will take place on February 27 in the sold out O2 Arena, in London.  The main event features the return of Anderson "The Spider" Silva, who was suspended following a PED bust, verses perennial contender, Michael "The Count" Bisping.  Silva, once regarded as the greatest fighter of all time, has fallen on hard times as he has not won a fight since 2013.  He was...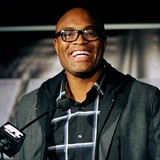 Anderson Silva (pictured) has never taken any performance-enhancing drugs, despite the fact the former UFC middleweight champion got popped for multiple PEDs on multiple occasions. That's Silva's story and he's sticking to it. Silva did, however, take a mysterious blue vial from Thailand that was supposed to help his sexual performance but instead caused him to fail said drug multiple...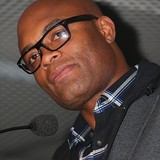 Former UFC middleweight champion Anderson Silva's (pictured) yearlong suspension for performance-enhancing drugs doesn't end January 31, but that didn't stop the UFC from assigning Silva his next assignment. Silva looks to take the first step towards reclaiming his middleweight throne against Michael Bisping on February 27. But first, Silva was forced to face the firing squad for...
RIO DE JANIERO – If you were anxiously awaiting Anderson Silva's ring appearance, unfortunately your wait will continue. On a recent conference call the former champion said the March 5th UFC event has been cancelled due to Brazil's economic crisis. "(The plan) was to have me fighting in Brazil against I don't know who," Silva said, "but with this situation going on in Brazil, economically...
Some names are more difficult than others, trust me I know. My name is Jeandra LeBeauf. (pronounced gee-ahh-druh La Buff). Hard to read, hard to spell, and I ALWAYS knew when the teacher got to me during role call. While there are no current fighters in the UFC named Jeandra or anything close, Reebok is experiencing some challenges with names. The latest victim is Anderson Silva...
Reebok released a new t-shirt for Anderson Silva, and they made another mistake which is becoming a normal thing as of late. The apparel brand mistakenly put "Anderson Aldo" instead of "Anderson Silva." They did get the whole Brazil thing right, since Silva is from that country. Check out the t-shirt here: The UFC – Reebok sponsorship has been highly controversial since the original...
MORE STORIES >>
MMA News

Delivered to your inbox

You'll also receive Yardbarker's daily Top 10, featuring the best sports stories from around the web. Customize your newsletter to get articles on your favorite sports and teams. And the best part? It's free!