We've updated our Privacy Policy.
By continuing to use this site, you are agreeing to the new Privacy Policy.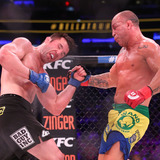 Chael Sonnen defeated Wanderlei Silva by unanimous decision at Bellator NYC inside Madison Square Garden Saturday night, and the 40-year-old immediately got to working on setting up his next fight after the victory.Sonnen hit Silva with a number of punches and was able to take him down in all three rounds, earning a 30-27 score in his favor from two judges and 30-26 from the other...
It's been years in the making, but Chael Sonnen and Wanderlei Silva will soon finally square off in the Octagon. The two have long hated each other, and were supposed to square off in 2014, but it wasn't to be. Fortunately, Bellator is renewing their passion and the two will go toe-to-toe on Saturday night to headline the Bellator 180 card. Sonnen and Silva attended their pre-fight...
Former UFC middleweight and lightweight champion Wanderlei Silva revealed Wednesday that he was hit by a car while riding his bike. In a Facebook statement that was translated by Bloody Elbow, a representative for Silva informed fans that the MMA legend suffered a shoulder injury that required surgery. "We inform that Wand has been in an accident," the statement read. "A car hit...
LIKE WHAT YOU SEE?
GET THE DAILY NEWSLETTER:
We've all had issues with our employer at one time or another and spoke up about it but I doubt any of us have been sued like Wanderlei Silva. This week, the UFC's parent company Zuffa LLC formally filed suit against former Pride and UFC veteran Wanderlie Silva over his claims of fights being fixed. According to documents filed in Nevada district court the UFC contends that Silva...
In his latest video blog recently retired fighter Wanderlei Silva continues to take jabs at the UFC and reveals that they threatened to sue him after agreeing to do a signing session to help generate interest in rival promotion Bellator's Tito Vs Bonnar event a few weeks ago. According to Silva he had been offered $10,000 to make the appearance, but after initially agreeing to do...
The Nevada Athletic Commission may have won the battle against Wanderlei Silva (pictured) Tuesday by fining the now-retired UFC star $70,000 and banning him for life for ducking May's random drug test, but Silva claims the war is only just beginning. Silva took to Twitter shortly after the committee levied their hefty punishment. "Those who are trying to take me down, come get it...
It's a good thing Wanderlei Silva (pictured) has retired from mixed martial arts, because the Nevada Athletic Commission has just banned him for life from competing in the state. The NAC also docked Silva $70,000, 10 percent of what he was guaranteed to make in his bout against Chael Sonnen at UFC 175, for running from May's random drug test. Silva was a no-show during Tuesday's...
Via another extremely dramatic and over produced video posted on his official YouTube page, one of the most revered mixed martial artists of all-time announced his retirement from the sport today. Unfortunately, this organization took away my desire to fight. I can't do this anymore. I can't be treated this way. And with a heavy heart I come here today to declare: I am stepping down...
During Tuesday's Nevada State Athletic Commission hearing, UFC star Wanderlei Silva (pictured) faced the firing squad to discuss why he "ran" out the side door of his gym when a NSAC official sprung a random drug test on him on May 24 for his scheduled fight with Chael Sonnen at UFC 175. Silva, with his wife and lawyer Ross Goodman on each side of him, didn't say a single word. According...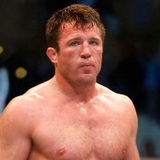 Fans have waited four long days for Chael Sonnen (pictured), MMA's most articulate smack talker, to address Saturday's confrontation with Wanderlei Silva at the Olympia Expo in Las Vegas. Sonnen said he would discuss the situation during this week's edition of "UFC Tonight," and true to his word, Sonnen kicked off tonight's show by calling Silva out on his "publicity stunt." "I'm...
MORE STORIES >>
MMA News

Delivered to your inbox

You'll also receive Yardbarker's daily Top 10, featuring the best sports stories from around the web. Customize your newsletter to get articles on your favorite sports and teams. And the best part? It's free!