We've updated our Privacy Policy.
By continuing to use this site, you are agreeing to the new Privacy Policy.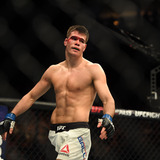 Dan Hardy had a funny response to Mickey Gall's call-out after on Saturday night. Gall choked out Sage Northcutt at UFC Fight Night in Sacramento to improve to 4-0. When asked after his win who he wants to fight next, Gall said Hardy was on his list. "I'd like to welcome back Dan Hardy," Gall said. "He says he wants to come back for a marquee fight. I'd be honored to fight him...
Retired UFC welterweight Dan Hardy made a strong debut in his new role as commentator earlier this month in London. Hardy served as color commentator and post-fight in ring interview man at UFC Fight Night: Gustafsson vs. Manuwa alongside veteran play-by-play man John Gooden. Now that he's been forced to explore some other options due to his Wolff-Heart (Hardy has not officially...
PRELIMINARY BOUTS Dan Hardy vs. Duane Ludwig Round 1 Early combination misses for Ludwig. Head kick from Ludwig misses. Hardy is caught and Hardy wraps him up and gets him against the cage. Knees to the body from both fighters. Two punches from Hardy as they exit. Hardy goes for a takedown and eats two knees in the process before he can get him back against the cage. Lots of...
MORE STORIES >>
MMA News

Delivered to your inbox

You'll also receive Yardbarker's daily Top 10, featuring the best sports stories from around the web. Customize your newsletter to get articles on your favorite sports and teams. And the best part? It's free!