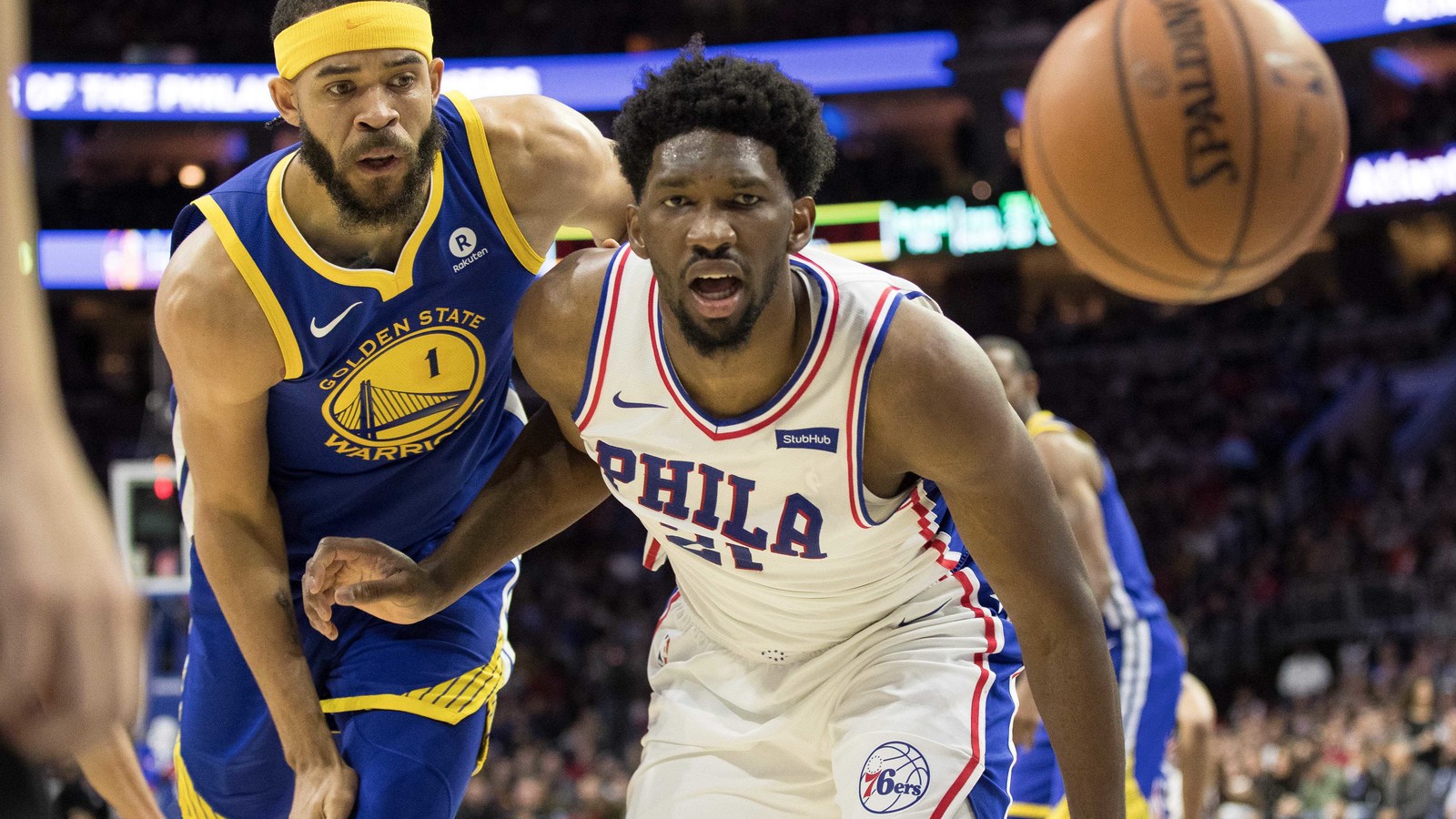 Nov 18, 2017; Philadelphia, PA, USA; Philadelphia 76ers center Joel Embiid (21) and Golden State Warriors center JaVale McGee (1) watch as the ball goes out of bounds during the first quarter at Wells Fargo Center.
Bill Streicher-USA TODAY Sports
The 76ers are (13-13) and currently tied for the final playoff spot in the Eastern Conference, which is quite the improvement from where the team was at just one year ago.
Philadelphia has a talented young group of players, and is no longer the perennial cellar-dweller that has found itself near the bottom of the standings for the better part of the last decade.
The team's newfound success on the court appears to have fired up its players, most notably Joel Embiid. The Sixers center, in an interview with ESPN's Ramona Shelburne, revealed that the team is preparing for a long campaign, one that involves them playing in June.
"[The Warriors] will be ready to go seven games with the Sixers in June!" Embiid said.
Golden State has a great chance to return to the Finals for the fourth consecutive year. The Sixers, however, don't even appear to be in the conversation, unless it's Embiid who is doing the talking.
MORE FROM YARDBARKER:
QUIZ: Name every player on the 2015-16 Golden State Warriors roster
The 2015-16 Golden State Warriors famously went 73-9 in the regular season to become the best regular season team in NBA history. Of course, they went on to cough up a 3-1 series lead in the NBA Finals to the Cleveland Cavaliers, spoiling their bid for immortality. Can you name every player on the GSW roster that season?
Last names are acceptable as answers.
MORE FROM YARDBARKER
76ers News

Delivered to your inbox

You'll also receive Yardbarker's daily Top 10, featuring the best sports stories from around the web. Customize your newsletter to get articles on your favorite sports and teams. And the best part? It's free!