Kyle Lowry got the night off, but the Dallas Mavericks came to play, forcing overtime against Toronto before the Raptors put it away 122-115. Here are our five thoughts on a hard-fought win. It's been more than two years since the Toronto Raptors last won 11 games in a row, and facing a Dallas Mavericks team that's 24 games under .500 it probably seemed like it was a given. But Dallas...
Kyle Lowry addresses the media following Toronto's 106-99 road win over Indiana on Thursday night.
Kyle Lowry addresses the media following Toronto's 116-102 road win over Brooklyn on Tuesday night.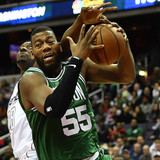 Daniel Theis' season-ending knee injury will force the Celtics to make adjustments in their frontcourt, as Taylor Snow of Celtics.com details. While the C's figure out how to replace Theis' minutes, Brad Stevens says he expects the rookie to make a full recovery and eventually return "better than ever.""You really feel for him," the Celtics' head coach said of Theis. "He was a guy...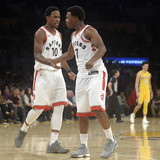 Knicks coach Jeff Hornacek admires the continuity the Raptors have maintained in rising to the top spot in the East, writes Al Iannazzone of Newsday. Toronto's All-Star backcourt of DeMar DeRozan and Kyle Lowry has been together for five seasons, along with center Jonas Valanciunas, and Dwane Casey has been the coach the whole time."Since we're playing Toronto, you could use them...
Kyle Lowry addresses the media following Toronto's 108-105 home win over Houston on Friday night.
Former Toronto Raptors guard Alvin Williams sits down with Kyle Lowry (with a guest appearance from DeRozan) to discuss a phone call they shared during the Raptors pursuit of Steve Nash in 2012 and how it helped change Lowry's outlook and shape the c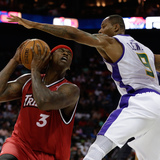 The launch party for an Al Harrington cannabis products brands was a star-studded affair.Harrington, a former 16-year NBA player, launched the third of his cannabis-related brands during a star-studded affair in Beverly Hills on Friday night.According to Weed News, Cleveland Cavaliers coach Ty Lue and Toronto Raptors all-star Kyle Lowry were among the people in attendance. Lue and...
MORE STORIES >>
Raptors News

Delivered to your inbox

You'll also receive Yardbarker's daily Top 10, featuring the best sports stories from around the web. Customize your newsletter to get articles on your favorite sports and teams. And the best part? It's free!