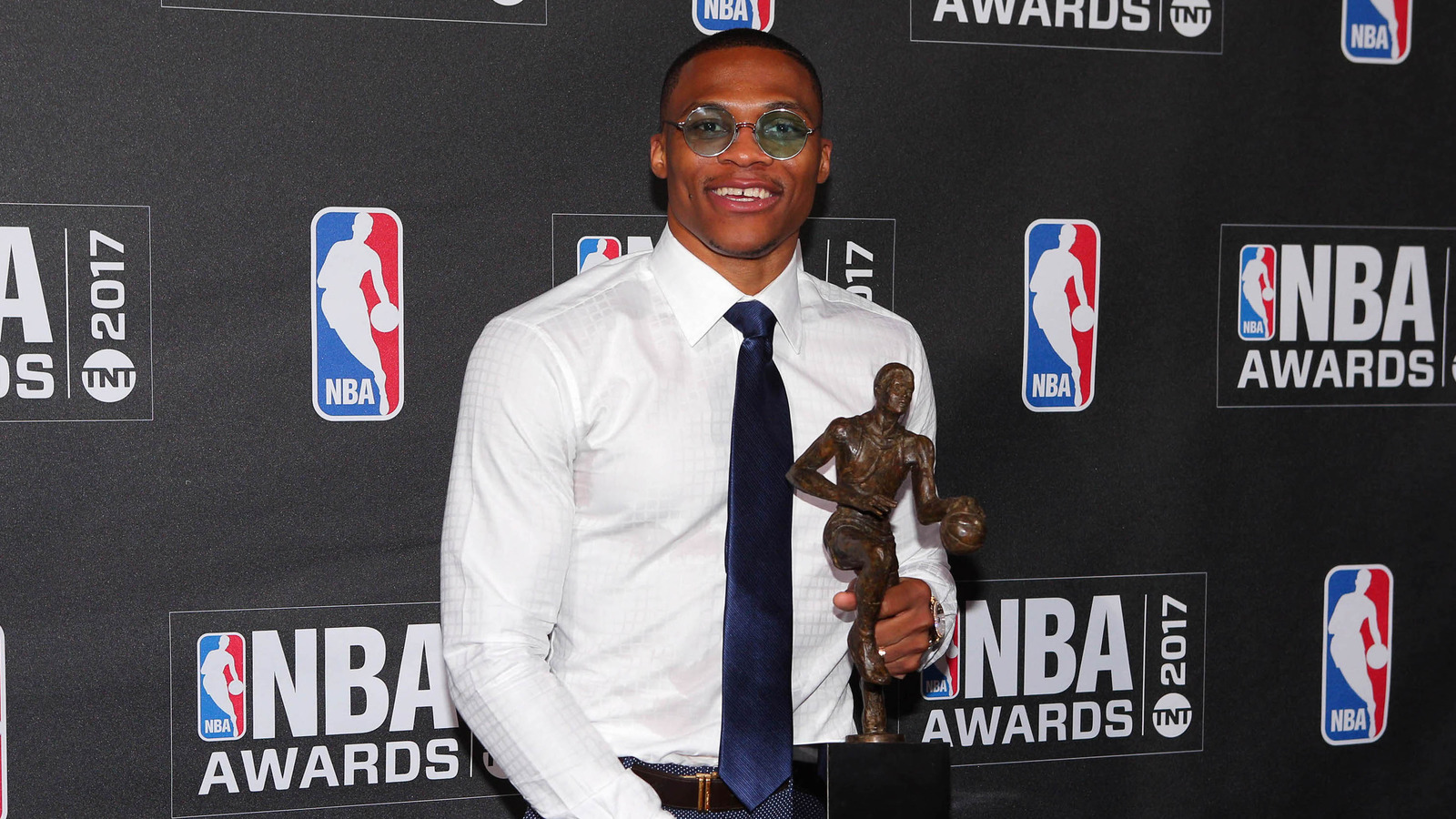 From one MVP (and former, embittered teammate) to another.
Brad Penner-USA Today Sports
It has been well-documented over the past year-plus that bad blood exists between Kevin Durant and Russell Westbrook. That goes without saying, really. Durant spurning Westbrook and the Oklahoma City Thunder for the Golden State Warriors in the summer of 2016 spawned a feud between the two superstars that exists to some extent to this day.
That is why it is interesting to hear from one of the onetime dynamic duo's former teammates that Durant reached out to Westbrook after the latter won the NBA MVP Award following an outstanding 2016-17 season.
According to Kendrick Perkins, who played with Durant and Westbrook in OKC from 2010-15, recently revealed in an interview with Sports Illustrated's Jake Fischer that Durant texted Westbrook to congratulate him on winning MVP.
Perkins established a group text message with Durant and Westbrook upon arriving in Oklahoma City. "I didn't know KD and Russ from a can of paint," he says. "I just wanted to get it like how we had it in Boston." They pinged the thread day and night, dishing football smack and NBA rumors. "We're in it a lot," Westbrook said back in April 2016, even after Perkins left the Thunder. "That's the type of relationship we have [with him]." The group message has been silent following Durant's departure to Oakland last summer. Perkins thinks it will resume activity in the future. "At least they're talking to each other again," he said. "I know they had talked right after they announced Russ won MVP. They texted. I think they broke the ice."
The feud between Durant and Westbrook has undoubtedly been a compelling sideshow. At times petty — even immature, some might argue — it's encouraging to hear that the two from time to time can set aside their differences when the situation arguably merits it.
Perhaps the icy relationship that exists between the two superstars is slowly beginning to thaw. But no one should hold their breath about it, either.
MORE FROM YARDBARKER:
QUIZ: Name every player on the Oklahoma City Thunder's 2012 Finals-losing team
The 2011-12 Oklahoma City Thunder made it to the 2012 NBA Finals, but saw a quick exit to LeBron James and the Miami Heat, losing four games to one. Can you name the 12 members on that Thunder squad?
MORE FROM YARDBARKER
NBA News

Delivered to your inbox

You'll also receive Yardbarker's daily Top 10, featuring the best sports stories from around the web. Customize your newsletter to get articles on your favorite sports and teams. And the best part? It's free!