Originally posted on
NESN.com
| Last updated 12/21/12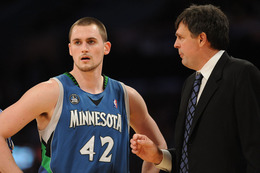 The entire Minnesota Timberwolves organization, the emotion of their victory over the mighty Oklahoma City Thunder still coursing through their veins, ran up to Kevin Love, spread their arms and implored him: "How do you like us now?" OK, nobody did that. They would have been forgiven if they had, however. Ten days after arguably the best power forward in the NBA was quoted in a story questioning the direction of the franchise, the Wolves delivered one of the statement wins of the season by any team. If Love wishes to play for a contender, Thursday offered a glimpse of what that might look like if he sticks it out in Minnesota. Five years and zero playoff appearances into his professional career, Love is understandably impatient to play for a winning team. Al Jefferson and Kevin Garnett preceded him in his aggravation in the Twin Cities, and Love's soul-baring interview with Yahoo! Sports was greeted with less outrage than heads nodding in agreement. The Timberwolves have spent almost their entire 24-year existence, save for one Garnett-fueled run in 2004, as a league-wide joke. Jefferson was traded to the Jazz, who then traded away their best player, Deron Williams, seven months later — yet he still beat Love into the postseason. As empty as it may seem to preach patience, that is exactly what Love needs. The Wolves are no longer spinning their wheels while winning less than a third of their games. It may be tough to see in this era in which stars jump teams or teams trade superstars to change the balance of the league at a moment's notice, but the Wolves are slowly building a promising combination of talent and payroll flexibility. Like any team using any approach, they will need their share of luck, but the Wolves have laid the groundwork for a promising future contender. The win over the Thunder was littered with evidence of that. Love finished with 28 points, seven assists and a low-for-him 11 rebounds, but he was not necessarily the reason Minnesota won. On a night when Ricky Rubio, the team's other would-be franchise star, missed all three shots he took and totaled three assists and two turnovers in 18 minutes, Alexey Shved and Jose Juan Barea paired up to form a backcourt punch the Wolves have never had during Love's career. Nikola Pekovic, who has developed into a worthy sidekick to Love in the post, put up a double-double of 24 points and 10 rebounds. Shved, Barea and Pekovic are just the type of players who demonstrate the reality that the sexier acquisition is not always better. Shved, a 24-year-old rookie from Russia, was a relatively obscure offseason signing despite his being on the radar of U.S. scouts as far back as 2006. As a result of injuries to Rubio and Brandon Roy, Shved has become one of Minnesota's most productive backcourt players and dished out 12 assists on Thursday. The Wolves were ridiculed for giving Barea a four-year contract last year, in much the same way as the Mavericks were laughed at for giving the 5-foot-11 guard out of Northeastern a roster spot in 2006. Barea became a key sub for the Mavericks' 2011 championship team and his 14 points in the fourth quarter on Thursday were pivotal to holding off the Thunder. Pekovic could be the key to everything, though, and not simply because he is a 6-foot-11 bruiser who seems to get better every week. Rumors have swirled about a trade that would send Pekovic to the Lakers for Pau Gasol. That deal might look like a steal for Los Angeles to the average fan, but anyone who has watched both players this season knows the Wolves would be taken to the woodshed in such a transaction. The rumored deal reeks of an up-and-coming team desperate to send a "win-now" message to Love, its disgruntled star, and in its panic the team would forfeit a tough-minded, improving young player for a known name on the decline. Here is where Love deserves some criticism, because if the Wolves still need to make a deal to prove they are serious about winning, he has not been paying attention. The Wolves made offers to free agents Nicolas Batum, a promising-if-inconsistent swingman whose name would have held some sway with Love, and Jordan Hill, a rebounding-focused big man who has already played for three teams in his first four seasons. Portland matched the offer to Batum and Hill accepted a two-year deal from the Lakers for less money, but both decisions might work out better for Minnesota in the long run. The Wolves are now due to enter 2014 with massive cap space and only one player (Love) owed more than $6.3 million in salary. The Wolves could continue to build via the draft and small, solid pickups or they could swing for the fences in Love's final year before he can opt out. Love may look at the projected 2014-15 payroll, with only six players under contract, as a weakness. In the modern NBA, however, it is a strength. Anybody with a competitive streak can understand Love's frustration. We also know that losing is not the only thing that has irked Love about his dealings with the organization. The Wolves' purported desire to keep the so-called "designated player" label for Rubio was a shot to Love's pride, especially as he watched Blake Griffin, his junior by 185 days and not nearly as complete a player, get that designation and the five-year contract that goes with it from the Clippers. The four-year deal the Wolves gave Love, with the option after the third year, sent the message that the franchise questioned just how much room their young power forward had to grow. Love is not the first budding superstar to be dissatisfied with his employer, though. Michael Jordan went through years of down-talking from his owner and general manager as he developed into the greatest player of his era. Paul Pierce was trade bait and a supposed problem child until he emerged as one of the greatest Celtics players of all-time. The point is, not every great player had to go the LeBron James route and change addresses to get the ring he strived for. With all their injuries and inexperience at key positions, the Wolves may not scare any of the top seeds in the Western Conference this season. But once they become healthy, experience the sour taste of a few playoff failures and perhaps add a solid, key veteran or two, the Wolves could make this seemingly interminable stretch of futility into a distant memory. Have a question for Ben Watanabe? Send it to him via Twitter at @BenjeeBallgame or send it here.
PLAYERS:
Kevin Love
,
Al Jefferson
,
Kevin Garnett
,
Ricky Rubio
,
Alexey Shved
,
Nikola Pekovic
,
Brandon Roy
,
Pau Gasol
,
Nicolas Batum
,
Jordan Hill
,
Blake Griffin
,
Paul Pierce
,
LeBron James
,
Jose Juan Barea
TEAMS:
Minnesota Timberwolves
,
Utah Jazz
,
Boston Celtics
,
Los Angeles Lakers
,
Portland Trail Blazers
,
Los Angeles Clippers
,
Miami Heat
,
Oklahoma City Thunder
MORE FROM YARDBARKER
NBA News

Delivered to your inbox

You'll also receive Yardbarker's daily Top 10, featuring the best sports stories from around the web. Customize your newsletter to get articles on your favorite sports and teams. And the best part? It's free!