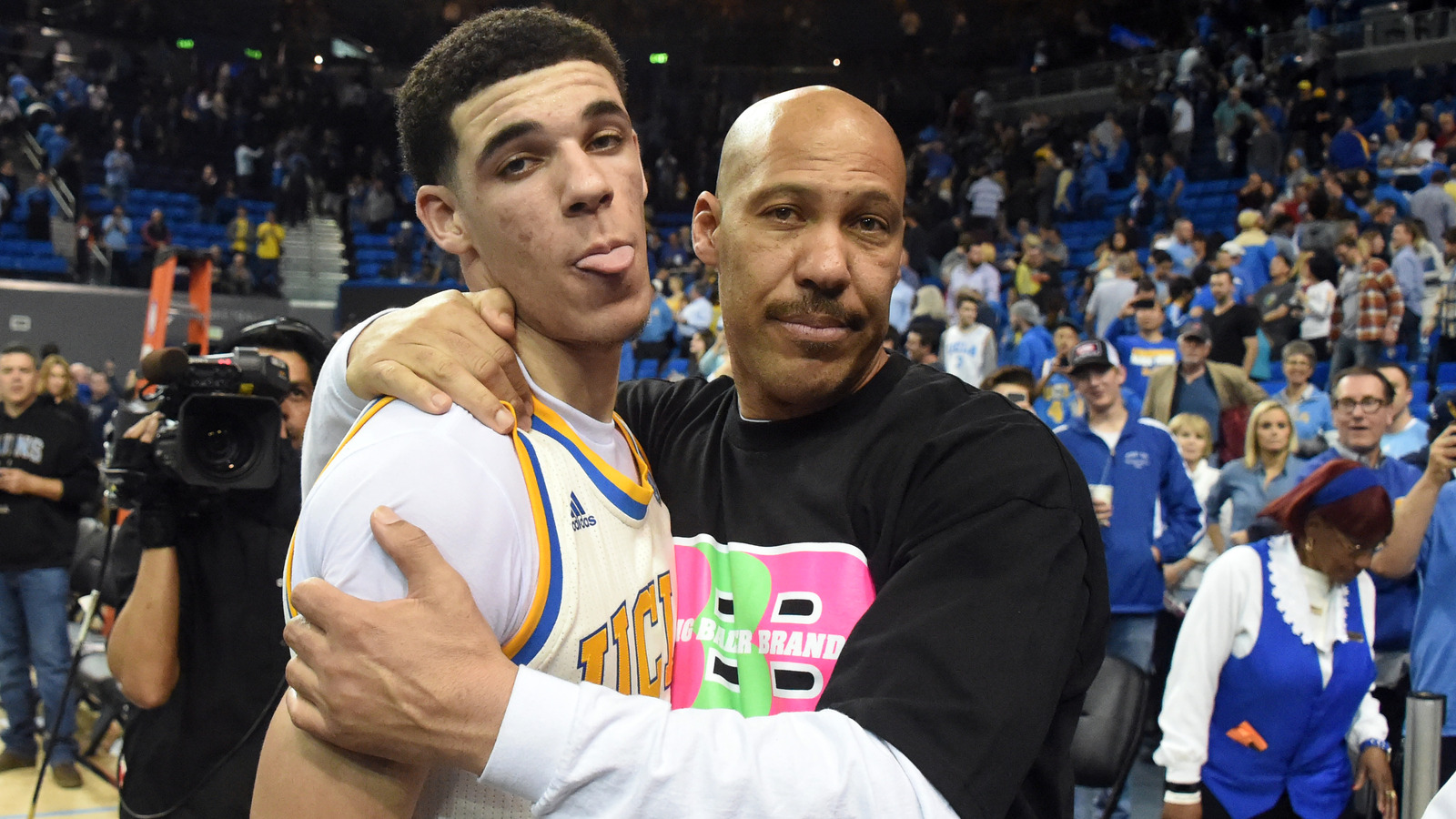 The Balls couldn't make it any clearer that they want Lonzo to end up with the Lakers.
Richard Mackson-USA TODAY Sports
Unlike most stars coming out of college, Lonzo Ball has no interest in being the top overall pick in the NBA Draft. The former UCLA point guard wants to play for the Los Angeles Lakers, but his infamously outspoken father says that is not a knock on the Boston Celtics.
In a recent appearance on the CSN CelticsTalk Podcast with Kyle Draper and A. Sherrod Blakely, LaVar Ball said he feels the Celtics have no room for his son because they already have an established leader in Isaiah Thomas.
"Team-wise, the Lakers are a better fit," he said. "They really don't have a leader. Boston already went to the playoffs. They have a leader."
Markelle Fultz is the heavy favorite to be taken by the Celtics at No. 1, and Ball feels the former Washington star is a good fit for Boston because he's "more of a scoring guy" who could be moved to shooting guard. LaVar says Lonzo is going to be at his best when he is running the show.
"Check it out; you're gonna have the ball in Isaiah's hands or the other guy's hands and Zo could possibly slide over to the two at some point," he added. "But he's a one (point guard). So just as a pure fit, you really wouldn't know who's team it is if he's in Boston.
"Now going straight to the Lakers, they're super-young. It's Lonzo's team; that's my opinion of it. Everybody else might think about it differently or something. But I'm just being realistic and thinking about it. He would be a better fit with the Lakers instead of Boston because (the Celtics are) already established and on their way up."
The Lakers were hoping D'Angelo Russell would emerge as their leader when they drafted him at No. 2 overall two years ago, but they experimented with him playing off the ball this past season. There have also been rumblings that L.A. could explore trade possibilities for Russell.
For what it's worth, LaVar Ball said Lonzo will be "fine" playing for any team, but the Ball family has always envisioned him playing for their hometown Lakers. LaVar has not indicated that reports like this one concern him or his son, but it will be worth monitoring as we get closer to the draft.
MORE FROM YARDBARKER:
QUIZ: Name every Los Angeles Lakers first round draft pick since 1988
Since 1988, the Los Angeles Lakers have selected 21 players in the first round of the NBA Draft. How many can you name?
1993: 12, SF/SG, North Carolina
1996: 24, PG, Arkansas-Little Rock
2002: 27, SF/SG, Fresno State
2004: 27, SG/PG, Slovenia
2005: 10, C, St. Joseph (HS)
2007: 19, SG/PG, Georgia Tech
2009: 29, PG/SG, Florida State
2017: 28, C/F, North Carolina
MORE FROM YARDBARKER
Lakers News

Delivered to your inbox

You'll also receive Yardbarker's daily Top 10, featuring the best sports stories from around the web. Customize your newsletter to get articles on your favorite sports and teams. And the best part? It's free!