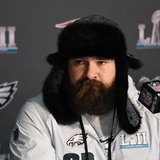 Super Bowl champion Jason Kelce is back at it again. Less than a month after his Philadelphia Eagles won the Super Bowl, the Eagles center is back in some familiar attire.Donning the same outfit he wore during his star performance at the championship parade, Kelce took part in the Manayunk Mummers Parade. If a picture is worth 1,000 words, this one is a solid novel.Kelce is clearly...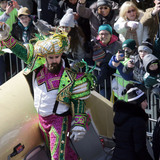 Nick Foles was named Super Bowl LII MVP, but one of the players who protects him was clearly the star of the victory parade.Eagles center Jason Kelce dressed in costume, looking like the sultan of swag, and he stole the show.Kelce led Eagles fans in song at one point, and the lyrics went something like this:"We're from Philly, f-cking Philly, no one likes us, we don't care!" Kelce...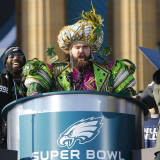 No one — and we mean no one — was more fired up when the Philadelphia Eagles held their championship parade on Thursday than Jason Kelce, and the veteran offensive lineman used the platform to unload on the media in a way you have probably never heard before.NFL GM turned analyst Michael Lombardi caught the worst of it by far. Back in September, Lombardi criticized Pederson for being...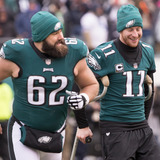 Eagles center Jason Kelce showed why he was named to the NFL All-Pro first team earlier in the month, and did so in a big way during Saturday's game against the Falcons in the NFC Divisional Playoffs.Kelce was tasked with being the lead blocker for running back Chris Clement on a screen pass late in the second quarter, and it's safe to say he did his job. Clement came flying out...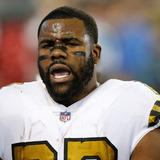 The New Orleans Saints might be starting the 2017 NFL season off without center Max Unger, who underwent foot surgery over the weekend, according to Herbie Teope of the Times Picayune.As a reaction to this, the Saints are apparently attempting to find a replacement for Unger by offering up running running back Mark Ingram to the Philadelphia Eagles in a potential trade. Philadelphia...
The Philadelphia Eagles are maybe the most disappointing team in the NFL right now, and a failing offense has everything to do with the team's 1-3 record. Center Jason Kelce is embarrassed by the poor showing and knows the offensive line is a huge reason for it. The Eagles allowed Sam Bradford to be sacked five times in Week 4 and once again the running game never got on track with...
MORE STORIES >>
Eagles News

Delivered to your inbox

You'll also receive Yardbarker's daily Top 10, featuring the best sports stories from around the web. Customize your newsletter to get articles on your favorite sports and teams. And the best part? It's free!