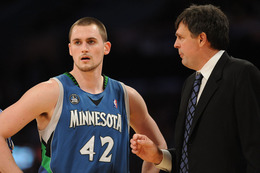 MINNEAPOLIS This wasn't about backtracking. Kevin Love maintained his stance, as firmly as it came across in Tuesday's Yahoo! Sports story. This was, however, about clearing the air, about adding nuance. And, most important, it was about ending a months-long conversation tricked out in speculation, conspiracy theories and opinions running rampant. Love has aired his issues with the Timberwolves on several occasions; it's a stance borne not only of two seasons in which the team failed to eclipse 20 wins but also of individual treatment. But there have been changes, some at Love's demand, and there's still time for the two parties to mend fences. On Wednesday, Love insisted that he still sees himself as a cornerstone of the organization going forward. While the Timberwolves were in Philadelphia last week, Love sat down with Yahoo! Sports' Adrian Wojnarowski, and the story written from their conversation ran Tuesday. In it, Love provided more details about his gripes with the Timberwolves, which he began to express this summer.What he didn't expect, he said, was for the story to be so negative, and whether that's a cop out or a testament to his naivet is impossible to say. "I thought it was going to be a lot more positive," Love said of the story. "I said a lot of great things about the team, but it ended up being more of a negative article. "Now I know, at 24 years old, fifth year in the league, some things you just express to the people I said them about, I guess." With the backlash, Love said, he learned a lesson. The grievances are real, but the context wasn't perfect, and going forward, he knows he must air such complaints with the people he faulted in the story namely David Kahn, the Timberwolves' president of basketball operations, and Glen Taylor, the team's owner. Love met with Kahn and with coach Rick Adelman after the story surfaced, and all agreed they need to move on. "Nobody wants to alienate themselves from anyone," Love said. In clarifying his stance toward the team, Love was careful to place the blame squarely on himself. He admitted that it's the negative that sells and that he should have realized that before having the conversation that led to the piece. He also cleared up any misconceptions about his feelings toward teammate Ricky Rubio after the Timberwolves failed to offer Love a max deal last January, the prevailing sentiment was that they did so in order to save it for Rubio by saying that the point guard's future contract is hardly his point of contention. "I don't ever have a problem with anyone getting paid," Love said. "If there's one other guy to pay on this team, it's Ricky Rubio." Love's agitation is in part the result of of his strong memory and short fuse, he said. It's hard for him to forget past slights, and he uses them for motivation; we've known about that since he entered the league. And should he try more to forget, to pretend none of the past year, the past four years, hasn't happened? That's not likely. "In some people's mental makeups, it's just not in them," Love said. "I think just moving forward is the biggest thing." So for now, Love wants the conversation to end. He's always going to remember the gripes, the teams that seemed cobbled together with little rhyme or reason, the contract, the chatter about the real source of his hand injury. But now, he has the closest-knit team he's been a part of in the NBA, he said, with one of the league's very best coaches in Adelman. He has Rubio and the potential to be part of the one-two punch that leads the Timberwolves into the playoffs for the first time since 2004, breaking the league's longest-running drought. And despite shouldering the blame for saying what he said in the venue he did, Love is not apologizing. He didn't mean to alienate anyone, from teammates to coaches to the organization to fans, he said, but he's standing by what he said. After all, if it weren't for Love, for his insistence on rebuilding, even for his very presence, things would be far worse. Give him license to wonder what could have been, to be upset about what wasn't. But the complaints have gone on long enough, at times in the wrong forum, perhaps taken out of context, but all too often true. And now the conversation has to end and the Timberwolves need to win. After all, that's what's going to keep Love in Minnesota. "I think one of the big points, like I've said all along, I wanted to be here for five years," Love said. "I would love to end my career as a Timberwolf." That's an easy statement for Love to make, and the right one on this day after those words were printed. Now, there's the complex matter of making it happen. Follow Joan Niesen on Twitter.

Read the rest of this story...
MORE FROM YARDBARKER
Timberwolves News

Delivered to your inbox

You'll also receive Yardbarker's daily Top 10, featuring the best sports stories from around the web. Customize your newsletter to get articles on your favorite sports and teams. And the best part? It's free!