We've updated our Privacy Policy.
By continuing to use this site, you are agreeing to the new Privacy Policy.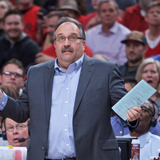 While the injury that has sidelined Reggie Jackson since December was referred to as an ankle sprain, the veteran point guard actually had complete tears of the ligaments in his right ankle, writes Keith Langlois of Pistons.com. When Jackson first went down with the injury, the Pistons announced he'd be re-evaluated in six to eight weeks, and he admits he thought he'd be back on...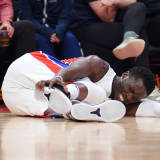 Pistons point guard Reggie Jackson hasn't given up on playing again before the end of the season, writes Rod Beard of The Detroit News. Jackson, who has missed the past 10 weeks with a severely sprained right ankle, was able to perform some quick movements in a workout today and step into his shot without discomfort."In a lot of ways, it's been tough," Jackson said. "It's [past 30...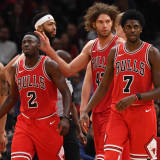 The Bulls are walking a fine line between developing young players and outright tanking, K.C. Johnson of The Chicago Tribune writes. The organization's recent decision to sideline starters Robin Lopez and Justin Holiday is one glaring examples of the club's bold strategy down the stretch.While vice president John Paxson did proactively say the Bulls would be launching a player-development...
LIKE WHAT YOU SEE?
GET THE DAILY NEWSLETTER: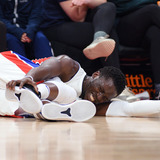 Pistons point guard Reggie Jackson suffered a Grade 3 right ankle sprain against the Pacers on Tuesday and will be sidelined until after the All-Star break, the team announced on Wednesday. Jackson underwent an MRI on Wednesday, which revealed the extent of the injury. He will be re-evaluated in six to eight weeks, according to the press release.Coach Stan Van Gundy said during his...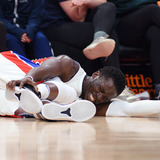 The Detroit Pistons are 19-14, and have been a pleasant surprise all season long. But now, they're about to be without their point guard for over a month. A Grade 3 ankle sprain is keeping Reggie Jackson on the sidelines.He's going to be re-evaluated in 6-8 weeks. In the meantime, this is a big loss for the Pistons. Out east, spots 4-through-8 are very tight. So tight, in fact, that...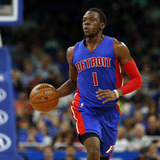 The New Orleans Pelicans committed $126 million to re-sign Jrue Holiday this summer, but they may still be looking to bolster the point guard position.Michael Scotto of Basketball Insiders reports on Tuesday that the Pelicans have discussed the possibility of acquiring Reggie Jackson from the Detroit Pistons in exchange for E'Twaun Moore and Alexis Ajinca. The 27-year-old Jackson...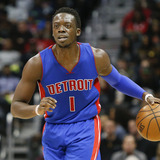 Could Detroit Pistons guard Reggie Jackson be the latest casualty of the NBA trade deadline?ESPN's Marc Stein reports on Friday that the Pistons have discussed sending Jackson to the Orlando Magic in exchange for D.J. Augustin and Jeff Green. Jackson, who will turn 27 in April, has regressed somewhat this season with averages of 15.2 points and 5.6 assists per game. He has been mentioned...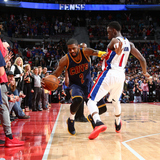 The Detroit Pistons felt rather aggrieved over how their series against Cleveland was officiated, and Reggie Jackson thinks bad refereeing should be met with stiff consequences. Jackson felt he was fouled on the last play of Game 4, but no whistle came and the Pistons fell 100-98 to the Cavaliers in the final game of the series. In response, he argued that referees should be subject...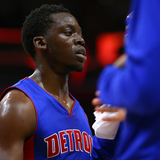 Reggie Jackson had a profane response to a heckler in Oklahoma City on Friday night. Jackson returned to OKC to face his former team as a member of the Detroit Pistons, and it was apparent he was persona non grata at Chesapeake Energy Arena. He was booed and then he shot back at a Thunder fan. Jackson told the fan "suck my d— you b—- a– n—-." Beware: the language in the video is...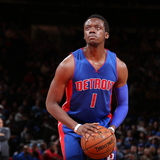 "People talk about me getting $80 million, now you got people getting $85 million that haven't made the All-Star Game or anything like that. I guess they came in at the right time. The new CBA kicked in and they're good now. Reggie Jackson gets five years, $80 million. I'm getting the same as Reggie Jackson." - John Wall Of all the contracts handed out this offseason, few raised...
MORE STORIES >>
Pistons News

Delivered to your inbox

You'll also receive Yardbarker's daily Top 10, featuring the best sports stories from around the web. Customize your newsletter to get articles on your favorite sports and teams. And the best part? It's free!