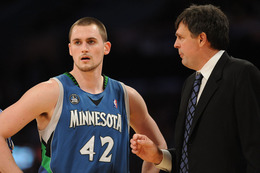 The season from hell continues for Kevin Love, but Thursday night didn't end quite as badly as did the power forward's last trip to Denver, when he suffered a concussion that ended his 2011-12 season.Love left Thursday's 101-97 win with a sprained finger on his right hand with 4:15 remaining in the third quarter. At the time, his team was down, 66-55, and he had logged 12 points and 17 rebounds in 24 minutes of play. Love returned to the bench after several minutes in the locker room and was officially listed as questionable to reenter the game, but he never did.After the game, coach Rick Adelman said Love could have played upon returning from the locker room but that he couldn't have shot the ball. He provided no further update on the forward's status.After Love left the game, his team went on a 15-4 run to take the lead, 71-70. The game remained tight until the final three minutes, when the Timberwolves created separation with two 3-pointers, one from Luke Ridnour and the other from J.J. Barea, and they eventually won without Love.After missing the first nine games of the season with a broken right hand, Love returned to action on Nov. 21 against Denver. He scored 34 points in his return but has had an up-and-down season since, which has included three games in which he scored fewer than 10 points. Love was affected in late November by an illness before then bruising his right thumb in New Orleans on Dec. 14, and the next night he suffered from flu-like symptoms and missed the team's home game against Dallas. He was then poked in the eye against Oklahoma City on Dec. 20 and missed the next game, Dec. 23 in New York, with that injury.The Timberwolves are 6-5 on the season without Love and 2-1 in games when he's scored fewer than 10 points. Follow Joan Niesen on Twitter.

Read the rest of this story...
MORE FROM YARDBARKER
Timberwolves News

Delivered to your inbox

You'll also receive Yardbarker's daily Top 10, featuring the best sports stories from around the web. Customize your newsletter to get articles on your favorite sports and teams. And the best part? It's free!