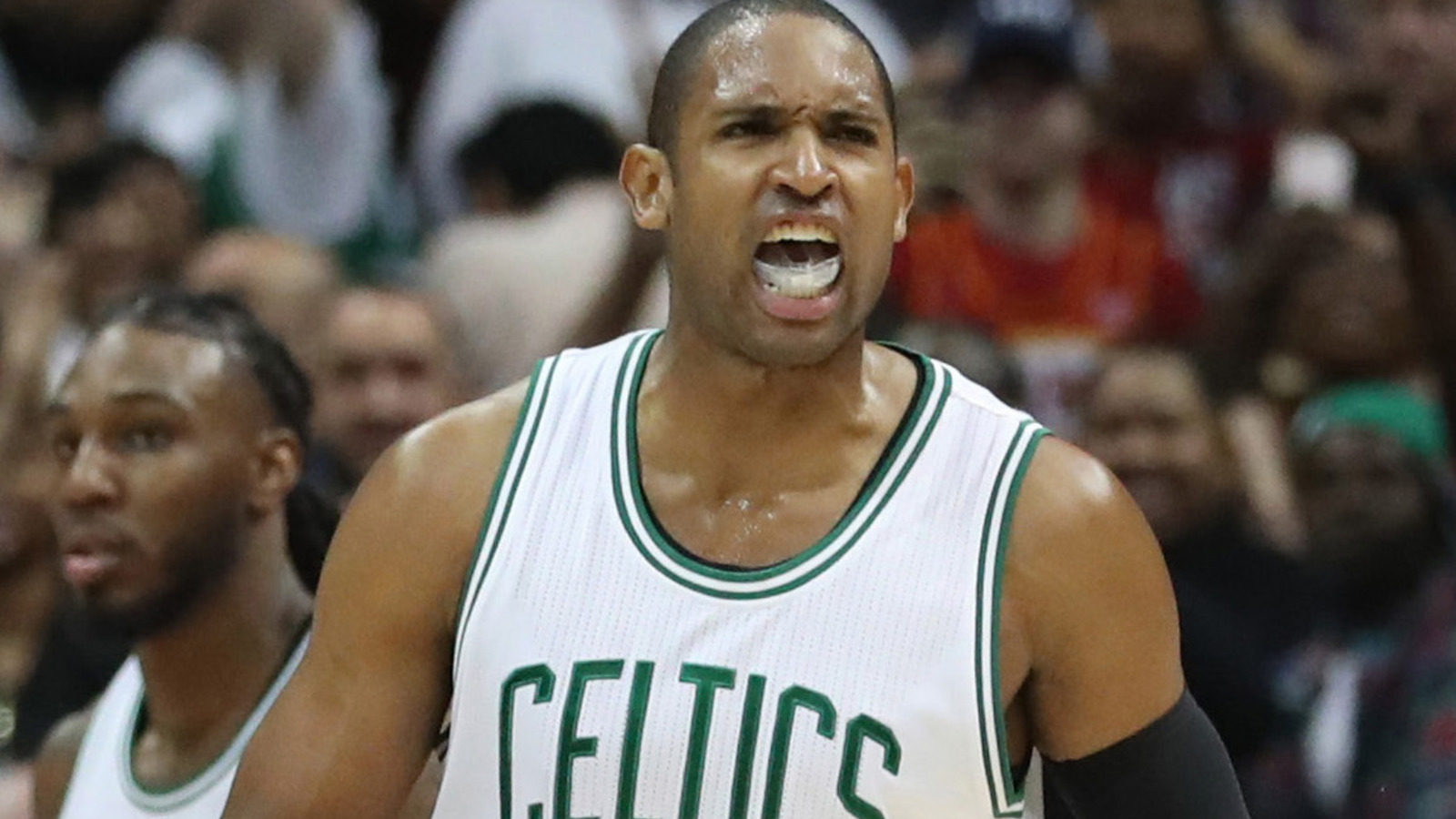 Al Horford helped the Celtics earned the No. 1 seed in the East.
Jason Getz-USA TODAY Sports
Throughout the offseason, we'll be counting down the Top 50 players in the NBA from 50 to 1. Who will just miss the cut? Which names do you expect to see? Regardless, you'll be able to find them all right here.
*Full disclosure, when writing this list, my editors and I both flat out forgot to include Al Horford. By the time we realized it, the list was done, so we figured the best course of action was sticking him in where he fit and including this asterisk. If you'd prefer to consider him ranked 27.5, ahead of Hassan Whiteside and below Paul Millsap, that's fine. 
Why He's Great: Few players in the NBA are less accurately reflected by their stats than Al Horford. He averaged 14 points and 6.8 rebounds last season. But Boston would absolutely still give him a max contract again if they had to do it over.
Few big men are as versatile defensively. He is a solid rim-protector but can jump out onto the perimeter with ease. Most importantly on that end, he's one of the league's best communicators. The Celtics rarely give up easy points on defense due to miscues largely because Horford prevents them. Orchestrating a defense is just as important as executing it, and Horford has always thrived in that role.
He sets great screens offensively and can do almost anything coming off of them. He can roll to the basket or pop back for a shot. If he does pop, he's just as much of a threat to pass as he is to shoot. Horford practically always makes the right decision with the ball.
These are not glamorous skills, but they are necessary in the goal of winning basketball games. It's not how most max players earn their money, but the Celtics haven't wasted a penny in paying Al Horford.
Why He's Below No. 27 (Paul Millsap): Millsap is basically a better version of the same player. He scores more without sacrificing efficiency. He rebounds more without sacrificing defense. He's just as valuable as a supporting piece and arguably even more versatile. Horford is a star role player. Millsap is a star who can serve the functions of a role player. There's a slight difference there.
Also worth noting: Millsap has never played fewer than 64 games. Horford has seasons of 29 and 11 games in the fairly recent past. Durability is a much greater concern for Horford, especially as they age. There's a far greater chance his age starts to show next season than Millsap's. And over the length of their contracts, Boston is at least going to sweat Horford's health.
Millsap is just slightly more valuable and slightly more durable. There's no shame in that on Horford's end. He's losing to a great player.
MORE FROM YARDBARKER:
QUIZ: Name the top three picks in the NBA draft since 1985
Since the start of the lottery era, we've seen 96 players get selected as the top three picks of the NBA draft. How many can you name?
MORE FROM YARDBARKER
Celtics News

Delivered to your inbox

You'll also receive Yardbarker's daily Top 10, featuring the best sports stories from around the web. Customize your newsletter to get articles on your favorite sports and teams. And the best part? It's free!