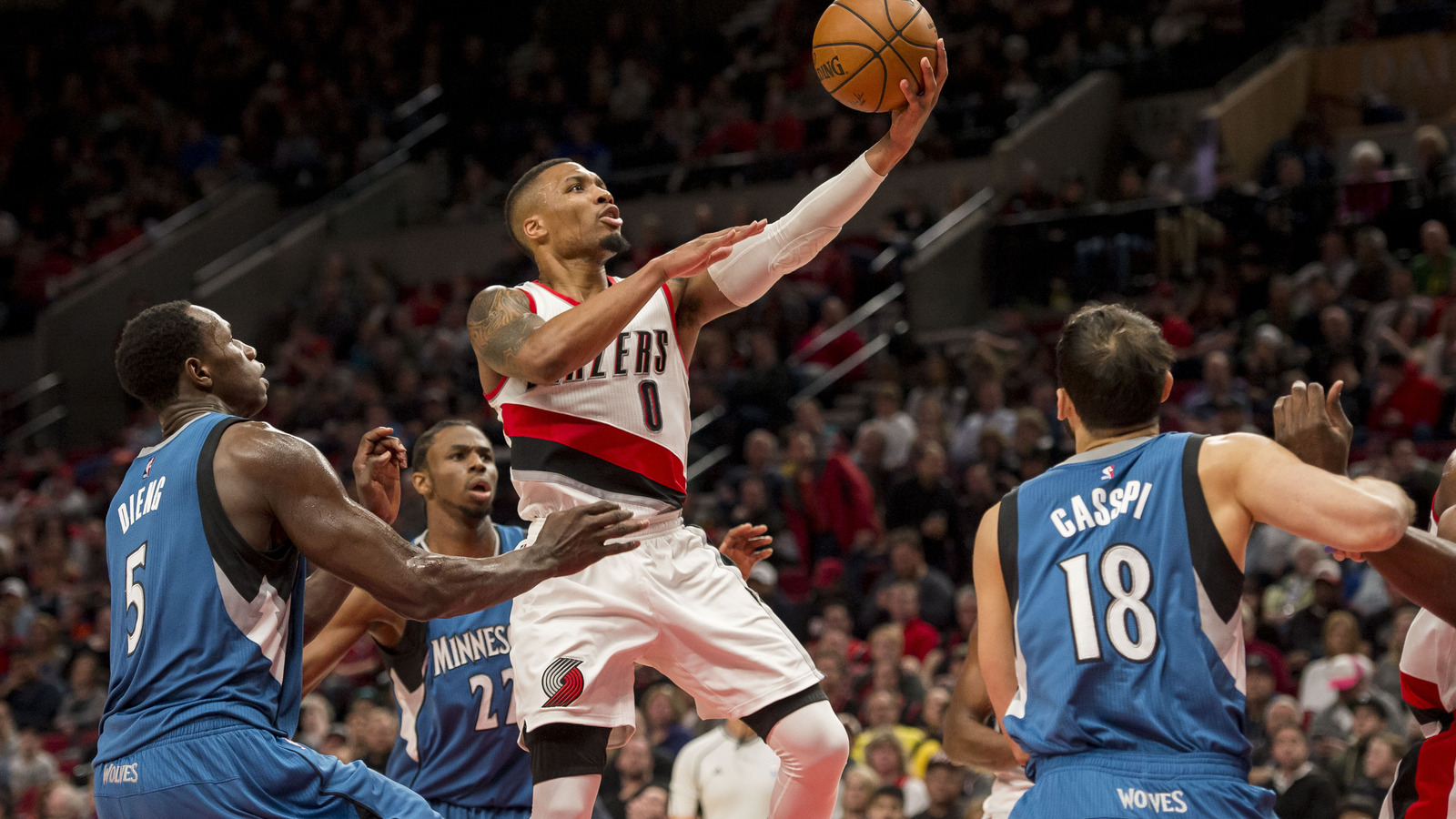 One of the league's most dynamic guards, Lilliard is also one of the most efficient.
Troy Wayrynen-USA TODAY Sports
Throughout the offseason, we'll be counting down the Top 50 players in the NBA from 50 to 1. Who will just miss the cut? Which names do you expect to see? Regardless, you'll be able to find them all right here.
Why He's Great: There's the obvious: he just scored a fairly efficient 27 points per game. That's pretty rare. Having a player like that virtually guarantees a playoff appearance. It might even put you in the discussion for the championship. But again, that's obvious.
Here's what isn't: Jusuf Nurkić was struggling for minutes in Denver. The moment he arrived in Portland, he was a borderline star. Al-Farouq Aminu's contract was mocked league-wide. Now he's one of the best values in basketball. C.J. McCollum was barely a rotation player when the Blazers were LaMarcus Aldridge's team. He's a star now that it belongs to Lillard.
Portland's culture is transformative, and Lillard is the center of that culture. Mo Harkless, Ed Davis, these are players that were struggling to stick in the NBA before Lillard got his hands on them. Usually when we talk about players making their teammates better, it's due to their selflessness as passers. Lillard's force of personality is what makes his teammates better. He's not a drill sergeant like Kevin Garnett and he doesn't poke people in the media like LeBron, but at this point there's no denying that being around Damian Lillard has a positive impact on other players' careers.
Why He's Below No. 14 (Paul George): Because Paul George is a nearly equivalent scorer, but an infinitely better defender. Lillard isn't apocalyptic defensively in the way that Isaiah Thomas is. At least he has the size to be something of a deterrent. But he's bad. He's really bad. And Paul George is really, really good at playing defense.
There is also room for concern about Lillard's playmaking. He's never topped 6.8 assists per game. How many point guards that leaned so heavily on scoring have actually won championships?
Well… I figured it out. Here is the list of every guard to average at least 25 points per game, but fewer than seven assists. Two of the 56 players on that list won the championship. One was Dwyane Wade, who usually played with another true point guard on the floor. The other was Stephen Curry, who plays with Draymond Green. Both players are significantly better than Lillard.
Lillard might just be a great scorer and nothing else. His impact in the locker room makes his teammates better, but he has to figure out how to do the same on the court.
MORE FROM YARDBARKER:
QUIZ: Name the highest-paid player on every NBA team from the 2016-17 season
How many of the top earners from the 2016-17 NBA season can you name in six minutes?
Good luck!
CLUE: TEAM / SALARY / POSITION
Note: Figures via Sportrac. $ amount is the average salary of the contract.
MORE FROM YARDBARKER
NBA News

Delivered to your inbox

You'll also receive Yardbarker's daily Top 10, featuring the best sports stories from around the web. Customize your newsletter to get articles on your favorite sports and teams. And the best part? It's free!