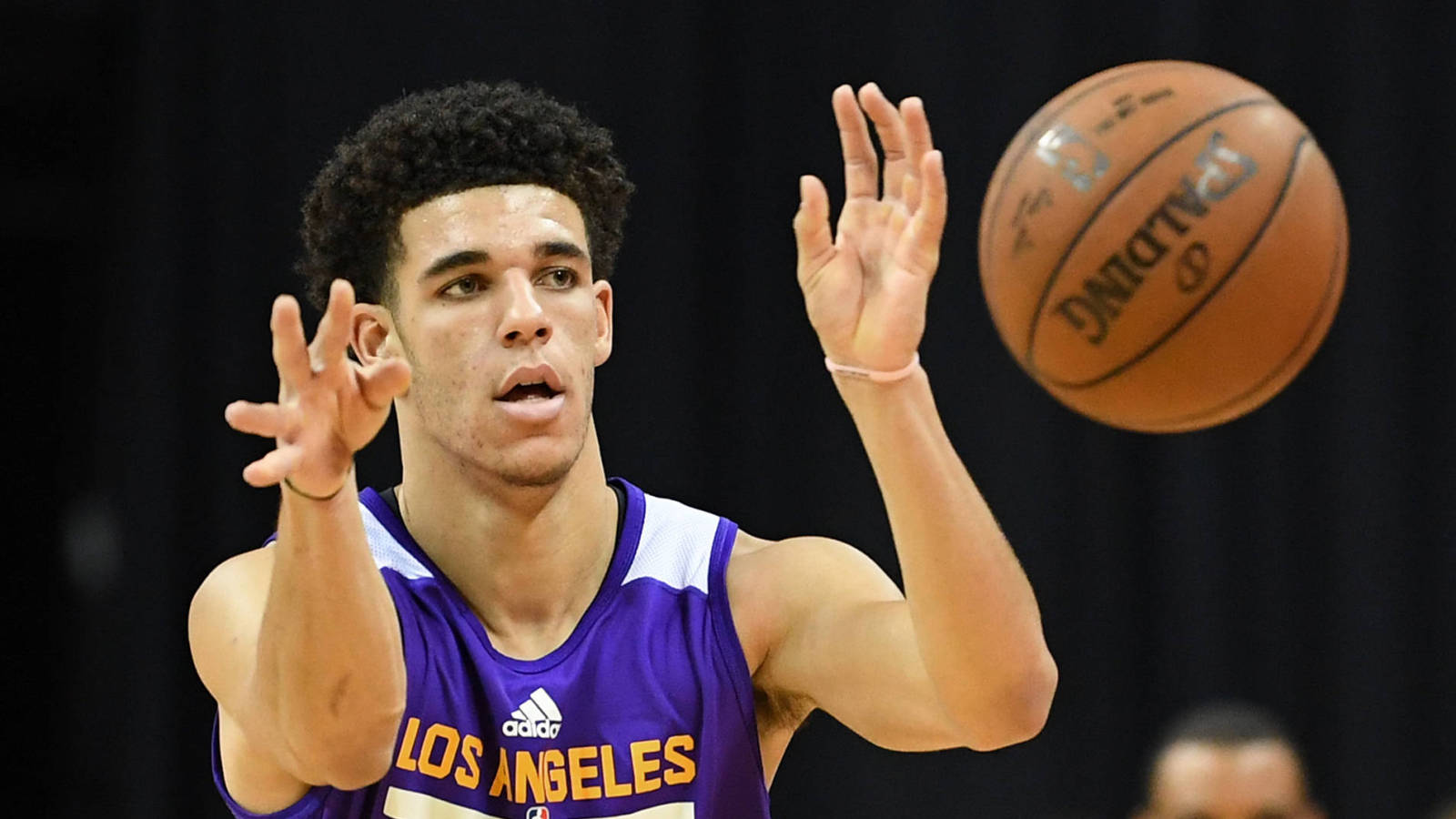 Jul 16, 2017; Las Vegas, NV, USA; Los Angeles Lakers guard Lonzo Ball (2) passes during an NBA Summer League playoff game against the Dallas Mavericks at Thomas & Mack Center. 
Stephen R. Sylvanie-USA TODAY Sports
One year ago, who would have guessed the 2016-17 NBA Rookie of the Year would be awarded to Malcolm Brogdon?
The Bucks swingman had a nice career at Virginia, of course, but the odds were stacked against him. He was the 36th pick in the draft, and the award traditionally goes to a top pick. Additionally, Brogdon isn't a flashy offensive player, and he doesn't put up jaw-dropping numbers. He's not a spotlight grabber. He's more of a "glue guy."
Brogdon's charge to Rookie of the Year may have been the most surprising in NBA history — it was certainly the most unexpected in my lifetime.
As we look ahead to the upcoming NBA season, will we have another shocker this year? Or will Rookie of the Year go to a top pick, as it does most years?
Below are my top 10 candidates, as it stands today, to claim 2017-18 NBA Rookie of the Year. Just missing the cut: Josh Jackson, Caleb Swanigan, Bam Adebayo, and Luke Kennard.
10. Kyle Kuzma, Los Angeles Lakers
Kuzma surprised a lot of people in Vegas this summer. The No. 27 overall pick averaged 21.8 points and 6.4 rebounds per game, and he played with incredible efficiency. He shot 51.4 percent from the field and 48 percent (!) from deep. The 22-year-old forward from Utah was named the Summer League's Finals MVP and second-team All-Summer League.
Though Kuzma was overshadowed by Lonzo Ball in Summer League and will continue to play in Ball's shadow throughout this season, he's looking like an early candidate for "Steal of the Draft." Additionally, the two look like they may form a dynamic young duo for the Lake Show. Ball and Kuzma ran the floor well together, and Kuzma's ability to stretch the floor made him a weapon even when he didn't touch the ball.
The 6-foot-9 Kuzma is also versatile on defense; early indications are that he can switch most positions on the floor. Though the Lakers are a bit log-jammed on the wing (with Brandon Ingram, Luol Deng and Corey Brewer), Kuzma in Summer League looked like a guy who will get minutes for Los Angeles.
9. John Collins, Atlanta Hawks
The 19th overall pick improved tremendously from his freshman to sophomore years at Wake Forest, and he stood out in Vegas.
During Summer League he averaged 15.4 points and 9.2 rebounds — but get this: he did it in 23 minutes per game. Those are some impressive numbers. Lonzo Ball averaged 32.5 minutes per game and Jayson Tatum got 32.0. Think about the gaudy stats Collins could have put up if he had played 10 more minutes a game.
In addition to his impressive all-around showing, Collins absolutely posterized New Orleans' Cheick Diallo and Keith Benson. He put the internet on alert: pay attention to Collins this year, because he might blow up Twitter.
Also helping Collins' candidacy for ROY: he'll have an opportunity to play in Atlanta. The Hawks traded Dwight Howard and let Paul Millsap leave for Utah as a free agent. There might even be an opportunity for Collins to start, depending on how the Hawks plan to utilize their weak 3 spot.
8. Markelle Fultz, Philadelphia 76ers
Though you can't blame Fultz for missing much of Summer League due to a sprained ankle, it was a little scary to see yet another 76ers top pick miss time with a lower leg injury. With that being said, shutting him down seemed like a precaution, and we have no reason to believe he'll miss time this year.
The pendulum on Fultz has swung quite a bit this offseason: first he was the consensus No. 1 (he's the next great!), then the Celtics traded the pick and everyone wondered why they didn't want Fultz (something must be wrong with him, it's his jump shot!), and now popular opinion seems to be somewhere in the middle.
Fultz is a shifty athlete reminiscent of James Harden, and he has a similarly zoned-out mentality, which has caused some analysts to nitpick at his game.
The reality is that Fultz was picked first in a loaded draft for a reason. He's going to be great, and he fits beautifully with Philadelphia's roster. Though he might not post head-turning numbers now that he's surrounded by other competent players, Fultz should be an immediate contributor.
7. De'Aaron Fox, Sacramento Kings
Fox is another guy who's seen his stock go up and down this summer. The No. 5 overall pick had an OK Summer League — not great but not terrible. A few times he showed the impressive burst that we watched with amazement during his year at Kentucky. He had five steals in his first game.
In Vegas, Fox averaged 11.8 points, three assists, and 2.3 rebounds in 21.3 minutes per game. He shot only 1-for-8 from three-point range, but that's a limited sample size, and we already knew outside shooting wasn't the biggest strength of Fox's game.
What people love most about Fox, besides his freakish speed and fearless game at the rim, is his fire. He cried in the locker room after UNC eliminated Kentucky from the NCAA Tournament. In a day and age when many guys want to look cool on the court, Fox brings the passion.
That's why so many have compared him to Russell Westbrook. Like Westbrook, it might take Fox a year or two to figure out his game as he adjusts to the NBA.
6. Jayson Tatum, Boston Celtics
Is Jayson Tatum Paul Pierce 2.0? It might be too early to make such a bold declaration, but the guy has an incredible offensive repertoire that is certainly reminiscent of "The Truth." Though Tatum's defensive abilities will probably always leave something to be desired, he was excellent offensively in Summer League.
Tatum, a 6-foot-8 forward, averaged 18.7 points and 9.7 rebounds per game. He had eight turnovers in three games, and his plus-minus was -20, but all in all Tatum played wonderfully, and he gave Celtics fans plenty of reason to be excited.
With the clock winding down and his team trailing by one, Tatum went off the dribble and hit the game-winner in his debut.
Though he's an explosive athlete, Tatum has an old-man game around the basket; he really knows how to maneuver his body and create open lanes. And though his shot wasn't really falling in Summer League, Tatum is a reliable scorer. Given the Celtics' depth chart, it seems likelier that Tatum will break out down the stretch this year (like Jaylen Brown last season) or in his second year.
5. Malik Monk, Charlotte Hornets
I think Monk is still mad he didn't get picked until No. 11. In the fall, back when he was dropping 47 on the eventual national champions, he was looked at as a can't-miss top-five pick, and it's hard to comprehend how scouts' opinion on him shifted so heavily during the pre-draft process.
Though this year's ROY (Brogdon) got there with defense, leadership, and a balanced game, the award typically goes to a guy who can hang big offensive numbers. Have a look at the last nine rookies of the year before Brogdon:
2015-16
Karl-Anthony Towns
2014-15
Andrew Wiggins
2013-14
Michael Carter-Williams
2012-13
Damian Lillard
2011-12
Kyrie Irving
2010-11
Blake Griffin
2009-10
Tyreke Evans
2008-09
Derrick Rose
2007-08
Kevin Durant
Those are all offense-minded guys who love to get buckets. Monk fits that mold. The five-star recruit from Arkansas averaged 19.8 points per game in his lone year at Kentucky. He shot 40 percent from downtown and attempted 6.9 threes a game.
Though I'm not fully convinced of his fit in Charlotte, Monk will likely hang some big numbers this year. Don't be surprised if he goes on a vendetta to stick it to the NBA and average 17 a game.
4. Donovan Mitchell, Utah Jazz
In the week leading up to the draft, several NBA insiders told me Mitchell was the player who was being most slept-on. The 20-year-old from New Hampshire, who played two years for Rick Pitino at Louisville, went 13th overall.
He's another guy who improved tremendously during his two years in college and benefitted from the decision to come back to school. He improved his per-game averages for points (from 7.4 to 15.6), assists (1.7 to 2.7), and rebounds (3.4 to 4.9). Additionally, he shot an impressive 35.4 percent from beyond the arc.
There are a few things in particular about Mitchell that have enticed NBA personnel. One is his unusual maturity. Another is his off-the-dribble shooting and skill in the pick-and-roll. And then there's his 6-foot-10 wingspan.
That's right. The 6-foot-1 guard has a 6-foot-10 wingspan.
Mitchell played in only two games but led the Summer League in average scoring with 28.0 points per game. He should be a valuable addition to Utah's fascinating backcourt of Ricky Rubio, Dante Exum, and Rodney Hood.
3. Ben Simmons, Philadelphia 76ers
Simmons is the curveball of this group. He didn't play in Summer League this year, and we still don't really know what kind of player he'll turn into. Remember, at one time he was touted as the next LeBron James.
Simmons recently turned 21, and though we haven't seen him in a regular season game yet (he missed the season due to a foot injury), hopes for him remain high. There's even a rumor that Simmons has grown 2 inches since he was drafted and now stands just under 7 feet tall.
Simmons presents an intriguing all-around skillset. During his tumultuous year at LSU — which I think we can all now say was not the right place for him — Simmons filled up the stat sheet, averaging 19.2 points, 11.8 rebounds, and 4.8 assists.
Simmons is a world-class caliber basketball player and potential All-NBA guy. Basketball fans are hoping he stays healthy this year, because it should be plain fun to watch him play.
2. Lonzo Ball, Los Angeles Lakers
Ball, the No. 2 pick in the draft, is the favorite to take the rookie crown, and he showed why in Vegas. The former UCLA Bruin was named Summer League MVP and he posted impressive numbers, averaging 16.3 points, 9.3 assists, 7.7 rebounds, 2.5 steals, and 1.0 blocks per game.
His showing in Vegas was a message to the sports world: now we can stop talking about his dad and just focus on how great this kid is going to be. (OK, maybe we'll keep talking about his dad, too.)
Lonzo has sky-high potential. He makes everyone on his team better. His outlet passes are so beautiful they might make a tear run down your cheek. And though there are concerns about his effort ("he just wants to look cool too badly"), Ball has enough talent to eclipse any emotional shortcomings, be they real or perceived.
And here's something to consider: Magic Johnson, who's known to value competitiveness above all else, loves Ball. He looks at him as the future of the organization. He's given the reins of his team to the 19-year-old. And based on what we've seen to date, the young Big Baller seems up to the task.
1. Dennis Smith Jr., Dallas Mavericks
John Collins had the best dunk of Summer League, but Smith had the best almost dunk. Feast your eyes on the near devastation:
Smith had some moments at NC State, such as the Wolfpack's win over Duke at Cameron Indoor Stadium, in which he posted 32 points, when he looked like the best player in the draft. Smith was named Atlantic Coast Conference Rookie of the Year and second-team All-ACC.
Averaging 18.1 points per game as a freshman in the ACC is quite an accomplishment. He even set the conference's career triple double record.
So, why'd he fall? For one, he has a torn ACL in his past. Secondly, some had concerns about his defensive effort and ball-dominant playing style.
The assumption heading into the draft was: if Smith ends up with a team that's the right fit, he could far outplay his draft position. And it seems like he will, as Dallas, which needed an explosive scorer, appears perfectly suited for Smith.
If the Mavs unleash the young guard and just let him be himself, Smith — the ninth pick in the draft — could very well lead all rookies in scoring.
Bettors are counting on it. Smith has the second-highest odds of taking ROY, per Oddshark, and he's my early favorite.
PLAYERS:
Malcolm Brogdon
,
Luol Deng
,
Dwight Howard
,
Paul Millsap
,
Paul Pierce
,
Malik Monk
,
Michael Carter-Williams
,
Donovan Mitchell
,
Rick Pitino
,
Ricky Rubio
,
Dante Exum
,
Rodney Hood
,
LeBron James
,
Magic Johnson
,
J.R. Smith
TEAMS:
Milwaukee Bucks
,
Los Angeles Lakers
,
Charlotte Hornets
,
Denver Nuggets
,
Los Angeles Clippers
,
Utah Jazz
,
Cleveland Cavaliers
,
Atlanta Hawks
,
Sacramento Kings
,
Boston Celtics
,
Dallas Mavericks
,
Louisville Cardinals
MORE FROM YARDBARKER
NBA News

Delivered to your inbox

You'll also receive Yardbarker's daily Top 10, featuring the best sports stories from around the web. Customize your newsletter to get articles on your favorite sports and teams. And the best part? It's free!