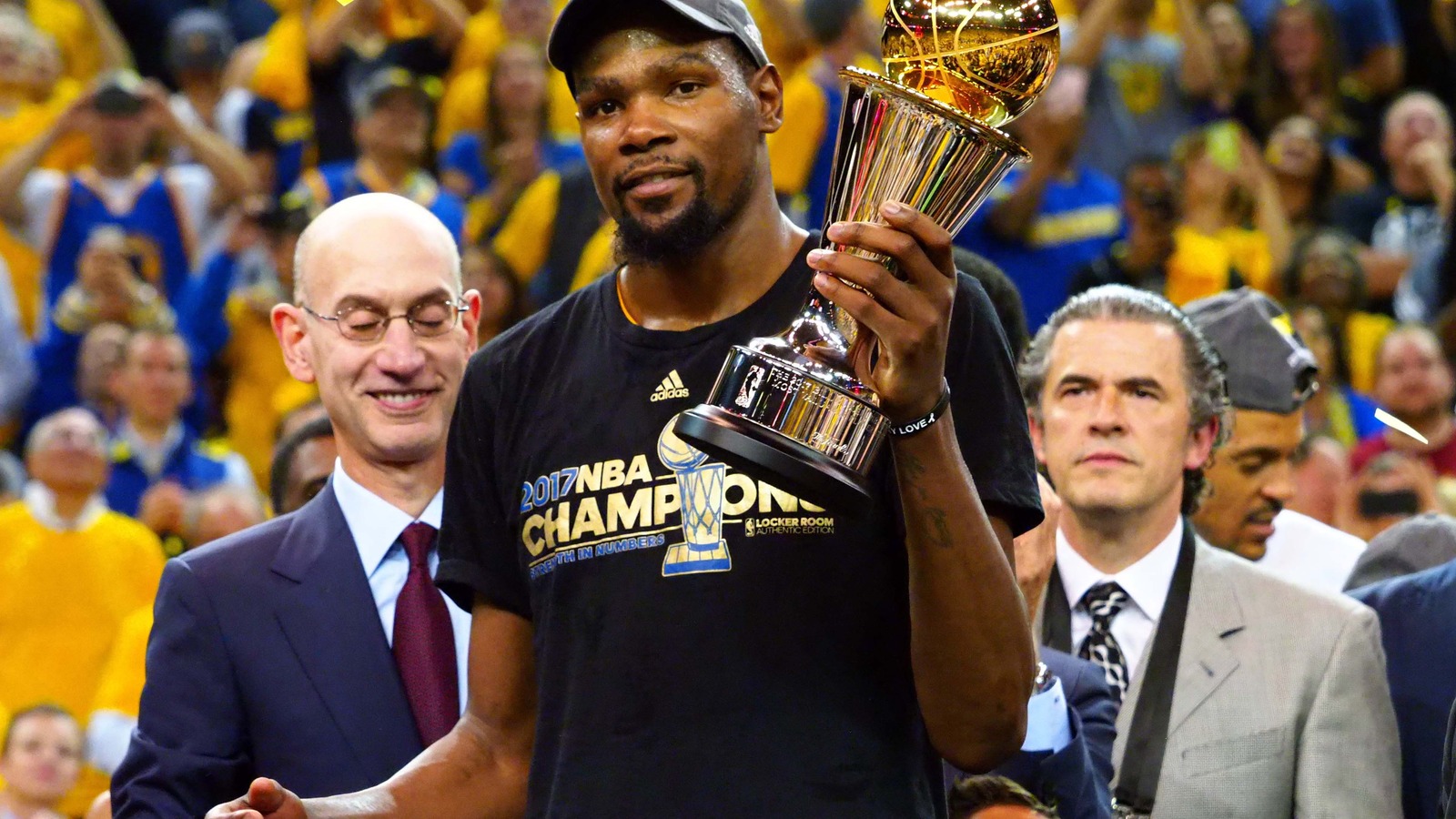 Warriors forward Kevin Durant (35) celebrates after winning the NBA Fianls MVP in game five of the 2017 NBA Finals at Oracle Arena. 
Kelley L Cox-USA TODAY Sports
The NBA season concluded like most anticipated it would. Monday night at Oracle Arena in Oakland, the Golden State Warriors took care of business to win their second NBA title in three years. It came against a game Cleveland Cavaliers team and star forward LeBron James.
It was the culmination of a season that lacked a ton of drama. Golden State and Cleveland met in the Finals for the third consecutive season. The rest of the NBA acted as nothing more than second-class citizens.
With that said, there's still a lot we can take away from the 2016-17 NBA season that doesn't include either of the two finalists. Star power around the Association continued to grow with the likes of James Harden and Russell Westbrook putting together huge campaigns.
On the other side of the ledger, the New York Knicks continued to define dysfunction. President Phil Jackson created a major rift with star forward Carmelo Anthony, which could ultimately lead to the future Hall of Fame forward being dealt.
Following Golden State's Game 5 win over Cleveland, it's now time to check out the top-10 takeaways from the 2016-17 NBA season.
1. Star power continues to grow
A lot was made about the on-court product this past season. Most of that was narrative. Maybe old-timers attempting to hang on to the past. But we're at a point in the NBA where star power itself is seemingly at an all-time high.
Obviously, we can talk about Stephen Curry and Kevin Durant in Golden State. Kyrie Irving and LeBron James in Cleveland come to mind as well. Considering the Warriors and Cavs have met in the NBA Finals three consecutive years, that makes sense. Though, there's a lot more star power around the Association.
Look at the seasons James Harden, Russell Westbrook and Kawhi Leonard put up en route to being named finalists for the MVP award. Each one can lay claim to being the most valuable to his team, but their stats were just off the hook in 2016-17.
Even when we go to smaller markets, the star power really seems to be there. At just 22 years old, Milwaukee Bucks All-Star Giannis Antetokounmpo continues to churn in tremendous seasons. We'll cover him a bit below. In Toronto, DeMar DeRozan and his 27.3 points per game has proven to be among the most prolific-scorers in the game. Boston Celtics guard Isaiah Thomas averaged nearly 30 points per game in 2016-17. Remember, he was the last pick in the 2011 NBA Draft by the Sacramento Kings.
This star power extends beyond those who earned a playoff spot. Anthony Davis continues to dominate the low-post in New Orleans. Former No. 1 overall pick Karl-Anthony Towns is seemingly on an upward trajectory that could make him one of the game's best bigs here soon.
With a talented 2017 NBA Draft class set to take center stage here soon, this star power will just continue to rise. Markelle Fultz, Lonzo Ball and De'Aaron Fox could become the next generation of point guards. They could potentially redefine that position, much like Irving and Curry have done in the recent past.
So while some will question the competitiveness of today's NBA, there's no shortage of stars around the Association. That's definitely a good thing for commissioner Adam Silver and Co. moving forward.
2. Lack of regular season intrigue
The Cavaliers made it relatively clear late in the regular season. They didn't care whether the team was a No. 1 or No. 2 seed. This led to Tyronn Lue and Co. resting Cleveland's starters as the regular season drew to a conclusion. It didn't really matter, as Cleveland would go on to win all seven of its road games through the Eastern Conference Finals, including three in Boston to wrap up its third consecutive NBA Finals appearance.
Out on the West Coast, a lot was made about Steve Kerr's decision to rest his four-best players in a nationally televised mid-March game against the San Antonio Spurs. It's the very same game that saw San Antonio sit LaMarcus Aldridge and Kawhi Leonard.
Golden State would go on to lose the battle of the backups, setting into motion conversations about San Antonio potentially earning the top seed out West. Since giving his players rest at that point, Kerr saw his Warriors post a 31-2 record. Needless to say, it mattered very little.
We don't yet know how the summer is going to play out. There are squads out there who might be able to contend with Cleveland and Golden State if they make some strong moves during the summer. San Antonio adding Chris Paul to the mix would be a prime example of this.
Even then, common logic seems to suggest that the two NBA Finals competitors over the past three seasons will sit among the game's best in 2017-18 as well.
With an extended regular season that lasts from late October or early November to mid-April, there's growing concerns that fans will tune out the start of the year. Some won't pay attention until after the All-Star Break. That could be minimized if a team like Golden State goes on another historic early-season run. But it surely is a concern for commissioner Adam Silver and the rest of the NBA.
3. Struggling teams maintain status quo
As previous bottom-feeders such as the Utah Jazz and Milwaukee Bucks found themselves in the playoffs this past season, other struggling organizations continued to flounder.
Surely, the initial focus has to be on the New York Knicks and president Phil Jackson. Though, that's something we will cover in more detail later.
Instead, there's two teams we will focus on here. Each of these two teams have have widespread issues, but the future should be bright for both of them. Of course, we're talking about the New Orleans Pelicans and Minnesota Timberwolves. After earning a playoff spot and being swept out by the eventual champion Warriors back in 2014-15, the Pelicans are averaging just 32 wins over the past two seasons. That comes with youngster Anthony Davis growing into a prominent role while entering the prime of his career.
For the Pelicans, a change in philosophy was definitely needed. No longer could the team look to build through the draft in order to find a supporting cast for Davis. Enter into the equation DeMarcus Cousins, whom the team acquired during February's trade deadline.
New Orleans would go on to post a 9-19 record after teaming Cousins up with Davis. It most definitely was not a match made in heaven for the two bigs. But the expectation here has to be that the two will find a way to work with one another moving forward. If so, Alvin Gentry's squad could be looking at a major uptick in relevance this upcoming season.
Not only will New Orleans have to find a way for these two All-Stars to coexist, it needs to continue building a solid roster behind them. That's where impending free agent Jrue Holiday comes into play. Will the Pelicans make a strong push to retain the former All-Star? Does he fit what the team is attempting to do by revolving its offense around two big men?
That's a big question, as is the necessity to find consistent perimeter shooting as a way to take advantage of what should be open shots.
The same questions arise in Minnesota to an extent. Karl-Anthony Towns is the clear franchise player. After that, there remains a ton of question marks. Will Andrew Wiggins ever develop into more than a one-dimensional volume scorer? How will the ACL injury Zach LaVine suffered impede his progress? Remember, LaVine was having a tremendous season before going down to injury.
We know there's a ton of talent on the Wolves' roster. But a season that started with playoff expectations culminated in Minnesota finishing with a disastrous 31-51 mark.
Heading into the offseason, it's going to be extremely interesting to see what Wolves head coach and president Tom Thibodeau decides to do. Ricky Rubio remains on the trade block. Kris Dunn is potentially set to replace him at point guard. Even then, there's still seemingly some interest in Derrick Rose as a free agent addition.
More than this, will Minnesota decide to trade either LaVine or Wiggins as a way to bring back another No. 2 option behind KAT? That's surely being discussed with the draft and free agency approaching. Either way, the time is now for Minnesota to take that next step. It didn't occur in 2016-17, and is must happen here in the not-so-distant future.
4. Knicks continue to implode
Phil Jackson now appears to be public enemy No. 1 in New York. He's followed pretty closely in line by Knicks owner James Dolan. Really, the past several seasons have been a completely dumpster fire for this front office tandem. And it culminated in yet another disastrous 2016-17 campaign in which off-court drama superseded a 31-51 record.
From Jackson's public rift with star forward Carmelo Anthony to the way the organization has treated former star Charles Oakley, nothing went right for the Knicks this past season. Now that Anthony will likely be traded for pennies on the dollar, most figure New York will build around young big man Kristaps Porzingis.
That's until we realize the 2015 top-five pick is unhappy with the circus surrounding the Knicks. Is there now a chance Porzingis himself might be moved?
To add a nice little icing on this crap cake, New York picked up the eighth pick in the 2017 NBA Draft. Most had hoped that said selection would fall in the top five in the lottery. That did not happen.
Despite all this, New York has committed to Jackson for the long haul. Whether that's a good thing remains to be seen. But with a lack of young talent and some horrible contracts (see: Joakim Noah), there's really no reason to believe this team will be contending any time soon.
5. Warriors domination is real
Golden State concluded a dominant 16-1 postseason with a 129-120 win over the Cavaliers in Game 5 of the Finals Monday night. The utter domination this team showed in winning its second title in three years simply cannot be overstated. It took a record-setting performance from the Cavaliers in Game 4 in order for the Warriors to lose even one playoff game. In the end, Golden State concluded the year having won 31 of its final 33 games.
During the playoffs, Golden State would ultimately put up 110-plus points in its final 10 games, including Monday's 129-point performance.
More than anything, the addition of Kevin Durant made this team pretty much unbeatable. He went at LeBron James in the Finals, coming away with the MVP in the process. It was an absolutely brilliant five-game performance from Durant.
Kevin Durant finished the NBA Finals averaging 35.2 PPG, 8.4 RPG, 5.4 APG, 1.6 BPG, 1 SPG. He shot 55.6% on FGs, 47.4% on 3s, 92.7% on FTs.

— Alex Kennedy (@AlexKennedyNBA) June 13, 2017
Meanwhile, Stephen Curry averaged almost a triple-double in the Finals. It was big for the two-time reigning NBA MVP to put the past two Finals performances behind him. While he wasn't the most talked about player on the Warriors, Curry's light's out performance in the Finals was a necessity to define his legacy in Oakland.
With two NBA titles in the past three years, the Warriors are likely in the midst of a dynasty. Their core players are all under 30 years old. And it looks like both Curry and Durant will return as free agents this upcoming July. A season that started out with championship aspirations concluded with Golden State hoisting the Larry O'Brien on its home court. While there wasn't a whole bunch of drama here, the Warriors' utter domination was historical.
6. Setting the stage for a busy summer
It promises to be busy on both the free agent and trade front this summer. We're looking at potentially one of the best free agent classes in recent history. Sure, the likes of Kevin Durant and Steph Curry are likely to re-sign with their teams. But others will move on.
Chris Paul, Derrick Rose, Kyle Lowry, Jrue Holiday and Jeff Teague headline an awesome crop of free agent point guards. Each one of these players could decide on a new city to call home. Paul himself has been linked to the San Antonio Spurs.
Meanwhile, the likes of Paul Millsap, Danilo Gallinari, Serge Ibaka and Zach Randolph are also slated to become free agents. Considering how dominant both Cleveland and Golden State have been over the past three seasons, it would not be a surprise if other contenders decided to load up on talent.
That's only magnified on the trade block. Suggestions are that Jimmy Butler, Blake Griffin and Carmelo Anthony could all be on the move. If that's the case, it would not be a surprise to see teams like Boston and Houston continue to make moves to compete in their respective conferences.
7. LeBron is still GOAT
Despite losing for the fifth time in the Finals, LeBron James continued to prove himself to be the best player on the planet. Sure some will say Durant outplayed him in the championship round, but that couldn't be further from the truth. When all was said and done, James became the first player in NBA history to average a triple-double in the Finals.
His numbers were downright absurd.
LeBron James came up short, but he had a monster Finals series: 33.6 PPG, 12 RPG, 10 APG, 1.4 SPG, 1 BPG, shooting 56.4% from the field.

— Alex Kennedy (@AlexKennedyNBA) June 13, 2017
The reality of the situation is that James took on a juggernaut in the Finals. He can't be blamed for the loss. Heck, Cleveland gave it everything the team had. The Warriors were just more talented and deeper.
Following the series, James also showed why he should be among the most-respected athletes in the world. Instead of simply heading off to the locker room after Monday's loss, James congratulated Durant for his first NBA title. That's all class, people.
This summer will surely be filled with the Cavaliers attempting to find the right supporting cast behind James. It could potentially include trading Kevin Love. But even in defeat, LeBron showed himself to still be the GOAT. That much can't be denied.
8. Magic's Lakers
It became readily apparent that once Magic Johnson took over the Lakers' front office, he was going to be changing things up a bit. On his first day as the team's president, Johnson traded super sub Lou Williams to the Houston Rockets for a first-round pick in the 2017 NBA Draft. It was a small move, but could very well set into motion what we should expect from Los Angeles during the summer.
The Lakers finished with a 26-56 record, as second-year player D'Angelo Russell failed to take that next step manning the point guard position. In fact, he was relegated to bench duties by first-year head coach Luke Walton for a little over a week later in the season. It remains to be seen whether Johnson and GM Rob Pelinka view Russell as the point guard of the future — something he seems awfully touchy about right now. That's only made a bit more questionable with the presence of three top-end point guards at the top of the 2017 NBA Draft.
What we do know is that Los Angeles is high on fellow youngsters Brandon Ingram and Julius Randle. Both could help lead the rebuild in Southern California. Add in the second overall pick, and there's something to look forward to when it comes to the Lakers.
The lingering question here is whether Johnson will look to make that big move during the summer. We've all ready reports about Paul George wanting to come home, but he's a free agent and could be had for free next summer. Either way, another disappointing season in Los Angeles has now given in to hope and optimism for the fledgling franchise. That's not a bad thing.
9. Finding a star in Milwaukee
Giannis Antetokounmpo is still only 22 years old and has four years of NBA experience. This past season saw the Greek Freak average 22.9 points, 8.8 rebounds, 5.4 assists, 1.6 steals and 1.9 blocks per game. That's just some absurd stuff from a dude that was just recently able to drink adult beverages legally in Wisconsin.
As Antetokounmpo has improved each season he's been in the NBA, there's really no limit to what he can do moving forward. We're talking about one of the most athletic basketball players in the history of the game, one that has found a way to put up absurd numbers for such a young dude.
This past season saw Antetokounmpo lead Milwaukee to the playoffs, but the goal now has to be to contend back East. Whether that's with an injury-plagued Jabari Parker as his running mate remains to be seen. But the Bucks would be smart to go out there and add another elite-level talent to give Cleveland a run for its money here soon. That could start during the summer.
10. Without help, Russ' star shines bright
What Russell Westbrook did for the Kevin Durant-less Oklahoma City Thunder this past season is something to behold. Here's a guy that averaged a triple-double, with 31.6 points, 10.7 rebounds and 10.4 assists per game. He also led the Thunder to a surprising 47-35 mark and a spot in the playoffs.
The issue for Oklahoma City is that it did not have a true supporting cast for Westbrook. Victor Oladipo struggled to act as that second scorer and there wasn't much behind him in terms of consistent scoring.
Heading into the summer, it will be interesting to see what the Thunder do in order to help Westbrook. The MVP candidate proved he has what it takes to lead a team. The stats tell us that. The team's success this past season proved that. It's now up to the brass in Oklahoma City to make sure Russ' star continues to shine bright.
MORE FROM YARDBARKER
NBA News

Delivered to your inbox

You'll also receive Yardbarker's daily Top 10, featuring the best sports stories from around the web. Customize your newsletter to get articles on your favorite sports and teams. And the best part? It's free!